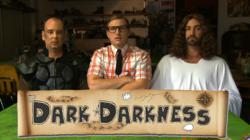 "I have the perfect cast and crew .... to collaborate with in creating our fantastical worlds with awkward characters in hilarious and exciting situations." -Wilson Large
Bellingham, Washington (PRWEB) September 07, 2012
D4 Productions, creators of the web series "Dark Darkness," launch their youtube channel and Kickstarter campaign August 27th, 2012 seeking crowd-funding support from fans, followers, and friends to produce and release: Season Zero- "The Summonings."
Directed and Co-Produced by Wilson Large, with Producer James Pidgeon, "Dark Darkness" is a new adventure-comedy-fantasy web series featuring dark lords, mythical crossbreeds, a dread wizard-vampire, a sorceress-ninja queen, Jerry the snakeman, a yeti, a troll, sheep and more. Led by Ronald the Dungeon Master, one of four protagonists and a dedicated Dungeons and Dragons gamer. Characters join forces, or conspire against each other, in a magical, fantastical realm. In pursuit of the truth, power, and "darkness," characters strive to solve a murder mystery amidst raucous high jinks at a pace of ten webisodes per season.
"I have the perfect cast and crew with just the right combination of creative talent, professionalism and geekiness to collaborate with in creating our fantastical worlds with awkward characters in hilarious and exciting situations," Large said. "We fit right in with an emerging genre of successful web series that include 'The Guild,' and 'Fallout: Nuka Break' and 'Journey Quest,' producing the kind of stories and characters that fans want and faithfully follow."
Most of the principal cast is in place, with DK Reinemer as Ronald, Morgan Grobe as Mordecai & Jordan Donovan as Snakeman. All three improv actor's have shared the stage with Ryan Stiles at his "Upfront Theater" in Bellingham, WA.
Upon successful completion of the Kickstarter campaign on Oct. 1st 2012, "Dark Darkness" will launch into full production of the next three episodes introducing the other main characters who will get their invitation to the Darkness Convention, with webisodes released in sequence on the "Dark Darkness" YouTube Channel, Ronaldandfriends. To learn more about this fan-supported, creator-distributed web series, find "Dark Darkness" on
FaceBook at http://www.facebook.com/DDofDD or visit http://www.darkdarkness.com.
About "Dark Darkness":
The concept for "Dark Darkness," an adventure-comedy-fantasy web series featuring cross-genre characters, was based on of the award-winning original play, "The Dastardly Death of Dr. Darkness," by Ben Eisner, which premiered at Bellingham's Idiom Theatre. Screenplay adaptation was written by Wilson Large, who began filming the series in Bellingham, Wash., in March 2012. The series includes a cast of six main characters, in addition to minor characters and extras, and is produced by James Pidgeon of Hand Crank Films. Co-producer Wilson Large has worked in the film industry for 20 years and has three titles in distribution. He formed D4 Productions with James Pidgeon in 2012.