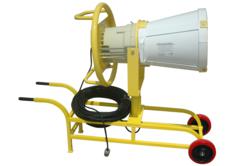 Portability for an explosion proof light is becoming a demanding item. An optional flange mount allows for use in 18" or 24" manhole as the diameter is slightly smaller.
Kemp, Texas (PRWEB) September 11, 2012
Larson Electronics Magnalight.com announced today the new EPL-TL-C-F explosion proof universal portable tank light. Designed for ease of movement, the EPL-TL-C-F is mounted on a heavy duty aluminum cart with solid polyurethane wheels. The light has an optional flange mount for placing into an 18 or 24 inch manhole for illumination in confined spaces or within tanks. This explosion proof light from Magnalight.com meets area classifications of Class I Division 1 Groups C & D. The EPL-TL-C-F explosion proof light uses a 400 watt metal halide lamp to produce high illumination up to 75,000 lumens for lighting 20,000 square feet of workspace area. Included with this unit are 250 feet of SOOW cord and a lamp fixture assembly that allows 360 degree rotation and 90 degrees of tilt for easy positioning. This unit can be configured to operate on 120 volts @50/60hz (Americas) or 230/240 volts for international use.
The EPL-TL-C-F explosion proof portable tank light with the manhole flange mount option from Magnalight is a versatile and durable light system for use in workspace areas that need bright lighting. This 400 watt metal halide light offers intense illumination and mounts on an aluminum heavy duty solid wheeled cart for transportability from one location to another. The EPL-TL-C-F is a universal light design as it can pass through any conventional manhole that is located in chemical plants or ship storage tanks. To accommodate passing through conventional manhole covers of 18" and 24", the design diameters are either 17.5" or 23.5".
With the flange mounted option on the Model EPL-TL-C-F, users can easily mount the light overhead their workspace within the manhole. The light mounted in this manner provides ultimate functionality in confined spaces where illumination is needed overhead. This light is rated by UL for use in Class I Division 1 Groups C & D areas and holds an explosion proof classification. The cart design for the Larson Electronics Magnalight.com EPL-TL-C-F is constructed of aluminum with stainless steel fasteners and uses two heavy duty solid rubber wheels for ease of transport. The cart has been designed to easily dis-assemble and re-assemble without the use of any tools for re-location through manhole covers in confined work spaces like tanks and enclosed areas. Re-assembly in the workspace area allows moving this heavy light around without heavy lifting. This EPL-TL-C-F explosion proof light offers extreme flexibility for any workspace needs where high illumination is required and eliminates the hassle of using string extension cord lights. "This explosion proof light offers extreme versatility with the flange mounted option as it can be easily placed in manhole covers for direct overhead illumination in workspace areas," says Rob Bresnahan of Larson Electronics Magnalight.com. Bresnahan goes on to say, "the transportable wheeled cart for this heavy duty light can be dis-assembled and re-assembled in minutes for ease of transferring it through small manhole openings."
Larson Electronics Magnalight.com carries an extensive line of explosion proof work lights for the industrial environment. You can view Larson Electronics' complete lighting product line at Magnalight.com. We can be reached directly by calling 1-800-369-6671 or 1-214-616-6180 for international customers.