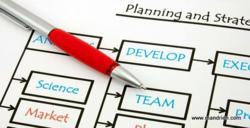 Our unique Six Sigma based protocol has endured the tincture of time as process and planning consultants to some of the nation's largest title agencies. Now, through our new proprietary program, we can scale title agencies with great ease."
New York, New York (PRWEB) September 06, 2012
Mandrien's proprietary corporate strategic planning program follows a Six Sigma based, and results-driven protocol to influence and prepare national title agencies to generate corporate sustainability resulting in an unparalleled growth trajectory in the upcoming real estate boom. The corporate strategic planning program can be utilized for sales, marketing, operations, technology and outsourcing initiatives by title agencies at any point in their business life cycle.
Most corporate planning initiatives fail. However, Mandrien's planning program, when initiated in a logical and incremental fashion by Mandrien experts, results in an average increased return on investment of 242% due to the implementation of outsourcing, automation and advanced technology.
CEO of Mandrien, Rusty Solomon, explains, "Our unique Six Sigma based protocol has endured the tincture of time as process and planning consultants to some of the nation's largest title agencies. Now, through our new proprietary program, we can scale title agencies with great ease."
The Mandrien program was created for national title agencies, retail underwriter operations, vendor management companies, technology leaders, and others looking to improve upon their results. It provides for Six Sigma initiatives, looking to increase efficiencies and decrease waste through Lean methods.
The Mandrien corporate strategic planning program can be customized to the needs of any real estate services organization. To seek a consultation about Mandrien's program, visit http://www.mandrien.com/request-a-meeting-or-call or call (917) 338-4222.