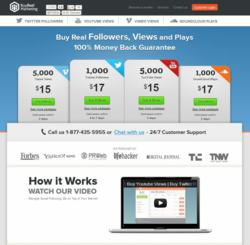 Ottawa, ON (PRWEB) September 07, 2012
Buy Real Marketing, the world provider of web 2.0 business applications and social media marketing solutions, reveals their working strategies in earning customer loyalty of their 54,172 Twitter followers. The company manages the Twitter handle @buyrealsocial where most interaction are held such as forums, chats and other discussions on topics related to social media.
Twitter is a platform designed to build connections and share information and updates on a particular aspect of people's lives. The passing years since its launch, this micro-blog social website has attracted businesses from all over the world including Buy Real Marketing. Twitter followers are currently seen by some marketers as commodities that can bring in the global revenues that traditional marketing fails to achieve today.
However, Buy Real Marketing views these followers as part of the company as a whole that requires guidance whether on internet marketing or personal goals involving the web such as popularity, knowledge and income generation.
"Customer loyalty is a hard earned boon that few businesses have been privileged to have, one that Buy Real Marketing has achieved over the years of being immersed on social networks like Twitter and Facebook," explains JP Bisson, Managing Director for Buy Real Marketing.
What are these strategies that Buy Real Marketing applied to earn customer loyalty from twitter followers?

Showing interest to followers
Giving credits to remarkable content shared
Posting consistent content addressing the need of clients
Observing regular tweeting schedules
Using familiar languages on tweets
Accepting responsibility when wrong
Assuming customer support role (answers queries and replies to feedback)
Promoting customers' content to other followers
Initiating conversation with followers
The internet marketing company has always catered to their clients' needs starting with a user-friendly website and the 24/7 customer support available through online live chats, calls and emails. Clients are the lifeline of every business so it is important to make them feel valued even on this new web platform such as Twitter.
Buy Real Marketing is the leading provider of, Twitter followers, YouTube views, SoundCloud plays, Vimeo views, Tumblr followers and soon Pinterest likes. Customer support is available 24/7 and provides services with a 100% Money Back Guarantee, which time and again proves their mantra of giving only the best quality to offer clients.
To know more about the company's services, visit their website at http://www.buyrealmarketing.com or contact them at 1-877-435-5955.
About
Buy Real Marketing is owned by Clicking Labs. Clicking Labs is a well established internet marketing company founded in 2010 by Jean-Patrick Bisson, Diana Quartin and Jonathan Kennedy. The company specializes in driving search marketing and social media traffic, social web app development and conversion optimization. Each product or service specifically helps small/medium website owners increase online visibility and improve online sales.
###