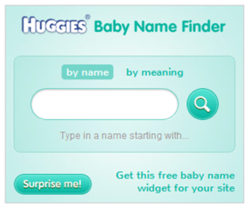 (PRWEB) September 07, 2012
Huggies New Zealand has just launched a new 'Baby Name finder' widget.
Accompanying their annual database of popular baby names, the widget allows users to instantly look up the meaning of a multitude of baby names by entering a name or a meaning into it.
"We think this is a great tool to help out parents-to-be choose a name for their babies," says Huggies New Zealand Brand Manager, Codey Goodall. "Thousands of names and meaning are now at their fingertips. Naming your child has never been easier or more fun!"
A further look through the archive shows a complete list of the most popular names for boys and girls in 2012, as well as:

The origin of each name by country or culture
How each name has ranked in popularity in recent years
Variations of each name
Huggies New Zealand members have the added feature of being able to save and edit lists of their favourite names.
To inspire you, the Huggies team have already started compiling baby name lists based on what is popular each week as well as categories such as A-list celebrity names, unique baby names, and names of royal family members, TV show stars, and famous musicians.
The widget and database can be found at http://www.huggies.co.nz/widgets
For further information please contact:
Codey Goodall | 649 250 2500 | Codey.D.Goodall(at)kcc(dot)com
About Kimberly Clark and Huggies New Zealand
Kimberly Clark is an innovative health and hygiene products company that most kiwis come into contact with every day. Major brands from Kimberly Clark include Kleenex®, Wondersoft®, Viva®, Thick & Thirsty®, Huggies®, Snugglers®, Poise®, Depend®, Kotex® and [U] by Kotex®.
®Registered Trademark Kimberly-Clark Worldwide, Inc.© 2012 KCWW