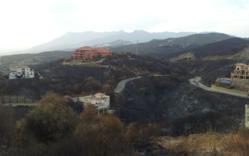 Marbella. Spain (PRWEB UK) 7 September 2012
When the flames had passed, more than 20,000 trees had been turned to ash over 8,000 acres of Andalucian wildreness.
Joining with local business owners and residents, the hotel group that has long called Marbella home, Fuerte Hoteles spend the next several months working towards returning the region's beauty to its hillsides by contributing a tree for each guest at its coastal location.
Following the tragic events of last week, Fuerte Hoteles has launched a solidarity campaign, called "A Host Tree", which will donate a planted tree for every guest who stays with us at our Marbella, seaside location. The group's effort is an effort to contribute to the reforestation of the 8,000 hectares burned during the wildfires that impacted areas around Marbella and nearby Mijas, Ojén, Alhaurin el Grande, Monda.
This Fuerte campaign is our effort to promote solidarity among Costa del Sol residents and business owners following the worst fire the region has faced in nearly two decades. By their estimate, their effort stands to reforest about 400 hectares, replacing about 20,000 trees a year of native species, which include oaks, pines and junipers, among many others. Additionally, guests will have the opportunity to make a direct donation at the hotel reception, with the stated intention of supporting the purchase of their own tree – a truly unique way to support and fund the broader, important cause.
From Marbella, José Luque, CEO of Fuerte Hoteles, has expressed concern over the incident and has appealed to the generosity and solidarity among visitors and residents along the Costa del Sol in support of rebuilding the area's unique natural beauty.
"We all have to do our part to minimize the damage from this tragedy and Fuerte Hotels has always fought for the protection and preservation of our environment and now more than ever we have to prove it," Luque said, pointing out that despite the reach of the fires, the seaside has not been affected and continues to offer the most ideal conditions to enjoy the most of a Southern Spanish beach holiday.
For more than 50 years, Fuerte Hoteles has been developing sustainable tourism and collaborated with various environmental initiatives, such as efforts aimed at reforestation of native species in the area known as the Marbella Arboretum .It also maintains various initiatives to protect endemic species endangered such as coastal juniper in Cartaya (Huelva).
For five decades, Fuerte Hotels has worked to support responsible tourism, which lets us coexist with the local environment, culture and socio-economic surroundings in harmony.
Fuerte Hoteles is a hotel chain with seven locations and a vacation apartment establishment situated in the Spanish cities of Marbella, Estepona, Torrox, Conil, Grazalema and El Rompido. This hotel chain is mainly characterized by its concern for tourism excellence, environment preservation, continuous training for their employees and its commitment with social and cultural development.