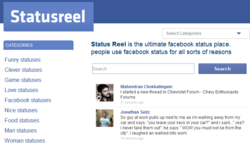 Boston, MA (PRWEB) September 09, 2012
Chefville, one of the newest Facebook games of today, is gathering thousands of users daily. The game simulates the life of a cook, yet it is more interactive because players can contribute certain actions to finish a single meal. There are also lots of meal variations to unlock, and adding neighbors can bring more money and experience. The Statusreel team has observed this buzz and in a flick, they decided to re-launch a handy widget that specializes in tracking down Facebook statuses.
The Statusreel widget can help Chefville players find more neighbors through quick and easy steps. In the Statusreel homepage, players can type Chefville-related words and the widget will display the profiles people who used the same words. Typing 'Chefville' alone can let the widget find many people who are also interested in finding neighbors. This simply proves the overall potential of a single Facebook status. Given the way a Facebook user changes his status daily, the Statusreel widget is one application that can be used for many purposes.
The Statusreel widget is somehow identical to Facebook when it comes to the default color. This makes the user highly comfortable. Statusreel app also has a collection of statuses that people can copy anytime. These statuses are sorted into categories so that finding them will be relatively easy. Aside from Chefville players, social media marketers have also started using the Statusreel widget because of the accessibility that it can offer.
The Statusreel team believes that the Facebook community will continue growing even though there are new social networking sites appearing today. The team traces this to Facebook's high accessibility rate and entertainment that it can offer to everyone. To keep users satisfied, the Statusreel team will continue introducing upgrades that can make the Facebook widget more useful and reliable.
About Statusreel
 
Statusreel.com is a product designed to give end-users an instant amount of Facebook statuses in real-time. Users can search via keyword or by subject matter to see what chatter is taking place publicly on Facebook and the web. Statusreel also allows websites and blogs to embed a Facebook status widget directly into their site. Statusreel is a web-based Facebook tool that is 100% free.