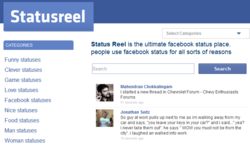 Cambridge, MA (PRWEB) September 09, 2012
Statusreel has recently launched a 'smart' online application that tracks people using Facebook statuses. This application has been introduced to Facebook Mafia Wars Players who want to find more friends and crew members. It is evident that Mafia Wars still remains as one of the most famous browser based games in Facebook today—a true crowning glory of Zynga. Mafia Wars players can use the Statusreel application in simple steps, and it can make the gameplay smoother and more fun.
The Statusreel widget may appear simple but its platform operates in an intelligent manner. Users can take advantage of Statusreel's function by typing a specific word in the search bar. Once the button is clicked, people who have used the specific word will appear in Statusreel's feed. Mafia Wars players can just use famous Mafia Wars gaming words, and they can now locate other people who are interested in the game. From there, players can start sending out Facebook invitations. This simple but useful function simply proves that statuses are not just meant to convey emotions, but they can also help others connect with each other.
Having a stable friend network in the Mafia Wars game can definitely help out any player. With many friends, the player can have more chances of success in battles. Additionally, the player can always gather energy packs from friends. Collecting stuff will also be easy because there are wish lists that can be fulfilled with the help of friends as well. With this situation, the saying 'have friends in high places' applies perfectly. Statusreel's Facebook widget can ease up the 'friend search' process and speed up the way people communicate. The Statusreel app can also be embedded to a website to increase its visibility.
A Facebook status is considered a simple thing in Facebook today. However, the innovation presented by Statusreel gave way for easier social media communication. The Statusreel team is currently improving the widget to cope with large influx of users from different areas of the Internet.
About Statusreel
 
Statusreel.com is a product designed to give end-users an instant amount of Facebook statuses in real-time. Users can search via keyword or by subject matter to see what chatter is taking place publicly on Facebook and the web. Statusreel also allows websites and blogs to embed a Facebook status widget directly into their site. Statusreel is a web-based Facebook tool that is 100% free.