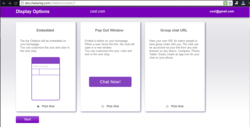 Virginia Beach, VA (PRWEB) September 09, 2012
Seeing the growth of the blogging niches of Blogspot, the Chatwing Development Team has stepped up its game by launching a website chat box with useful and adaptable form factors. Chatwing app's form factors are actual shoutbox style, pop-up window, and the latest: direct link option. All styles can be used for different purposes, making Chatwing shoutbox a reliable blogging application.
The normal shoutbox style will appear on a definite location in the user's blog. It appears as a micro-chatroom where visitors can leave their messages. They can log in with their social media accounts, or they can choose the Guest option. The pop-up window style is more conservative when it comes to space; instead of a chatroom, the free chat widget appears as a 'chat' button that can be clicked by visitors. They will then be taken in another window where the Chatwing chatroom is prominent.
The direct link URL style makes the Chatwing chatbox mobile-friendly and handy in many cases. This option allows users to create their usernames and shortlinks. They can send these links to their friends and acquaintances. The purpose of this style is to initiate private group chats and make communication more 'centralized.' Users also have the opportunity to add unlimited number of chat boxes, and they can even put unlimited moderators.
Chatwing has been around for more than three years already; its proprietors and developers have already foreseen the rise and fall of many niches in Blogspot. The manner is the same with other blogging communities, but their rates vary. Nevertheless, the Chatwing team believes that a certain factor connects all niche blogs from different communities: web communication. This is a simple premise, yet the Chatwing team intends to improve it by introducing the free chatbox in all online communities. The way is still long, but the team is already beginning its simple steps.
About Chatwing.com
Chatwing.com specializes in the new field of website chat. Over years, the Chatwing team has introduced live chat widget for hundreds and thousands of blogs. The Chatwing application bridges people from many parts of the world, creating global synergy through the Internet. The shout box can be installed in just seconds, and it can be used for varying purposes such as leisure and Internet marketing. It also allows a user to customize the size, color, and name of the widget. Chatwing is 100% free for everyone.