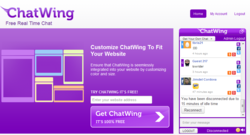 Miami, FL (PRWEB) September 10, 2012
Connecting and creating friends globally have been easy and simple through the Internet. Social networking sites like Facebook have provided online users with a platform to make these activities possible. On the other hand, Chatwing team is continuously improving their chat box to accommodate web users' need for a reliable and real-time interaction. Chatwing also provides users with cool avatars and cute emoticons for a more expressive chatting.
Facebook users can engage their friends in interesting discussion through Chatwing free shoutbox. They can connect to up to a thousand other Facebook users through the regular widget form. Admin control option empowers admins to ban user or filter conversations that are profane or offensive for other users. The direct URL link permits group chats by generating shortlinks which users can share to selected Facebook friends, initiating a more private interaction among friends or newly established connections.
Chatwing free chatbox highly supports online network expansion through its social media integration and social sharing features. Aside from Facebook users, Chatwing users can also interact with Twitter users. Web surfers who have Facebook or Twitter account will have no problem signing in to any chat exchanges while people who don't want to share their social media account info may log in as a guest. To keep one's social media account active, online users can utilize the social sharing option to facilitate transfer of sensible chat conversations from the chat box to his Facebook wall. This helps in improving online visibility.
One of the key features of the free chat widget is its easy installation mechanism allowing anyone to experience the communication advantages it provides. According to Chatwing team, most users who embedded the chat box only took 20-30 seconds to get the process done. Online users are also given a wide range of choices to customize the free chat box- from widget's size and color to CSS customization.
Facebook users can now take their online interaction to the next level. Global connectivity can be done easily and with more control options. Online users who are into marketing, advertising and networking can also use the Chatwing chat widget to their advantage.
About Chatwing.com
Chatwing.com specializes in the new field of website chat. Over years, the Chatwing team has introduced live chat widget for hundreds and thousands of blogs. The Chatwing application bridges people from many parts of the world, creating global synergy through the Internet. The shout box can be installed in just seconds, and it can be used for varying purposes such as leisure and Internet marketing. It also allows a user to customize the size, color, and name of the widget. Chatwing is 100% free for everyone.