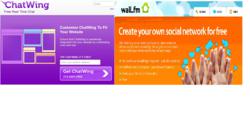 Miami, FL (PRWEB) September 10, 2012
Wall.fm, one of the most famous social networking site creators, has a decent number of dating sites being created everyday. This is based on the objective research conducted by the Chatwing Development Team. Recently, the Chatwing team has launched a website chat box that can help Wall.fm dating sites gather more audience. The Chatwing app is loaded with simple features that can be useful in the long run. The Chatwing app is also built to foster relationships and improve the online presence of websites.
Using Chatwing's free shout box is easy. Chatwing visitors can just log in with their social media accounts. Alternatively, they can use Chatwing's Guest login option. With this, they can select a cute avatar from Chatwing's collection of avatar displays. Bloggers and website owners, on the other hand, can install the Chatwing chatbox in quick and easy steps. First, the user must register his website's domain name. After that, he can now move to the customization process. In this second step, he can change the color, size, and title of the widget to suit the theme of his website. The user can also add unlimited chat boxes that he can use for all of his websites.
About five months ago, the Chatwing free chat widget has gathered small recognition from many users. The Chatwing team, proactive as always, have introduced the necessary upgrades that made the shoutbox more efficient in terms of speed and communication. The upgrades have paid off—the Chatwing application was recognized in different blogging communities, until the team has decided to check out the Wall.fm sector.
The Chatwing team will never stop in creating upgrades. The developers simply believe that a successful application must always be dynamic and open for changes. The team has always included the suggestions of people in their online stratagem.
About Chatwing.com
Chatwing.com specializes in the new field of website chat. Over years, the Chatwing team has introduced live chat widget for hundreds and thousands of blogs. The Chatwing application bridges people from many parts of the world, creating global synergy through the Internet. The shout box can be installed in just seconds, and it can be used for varying purposes such as leisure and Internet marketing. It also allows a user to customize the size, color, and name of the widget. Chatwing is 100% free for everyone.