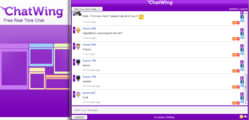 New York, NY (PRWEB) September 10, 2012
According to global statistics, pieces of advice are fluttering across the Internet day by day. These 'little bits of wisdom' usually come from online professionals who are maintaining blogs and websites. Some of this information reaches many people, while a large percentage is also targeting audiences blindly. To help online counselling become a better and sustainable niche, Chatwing—a company specializing in creating widgets—has decided to launch a global chat box capable of social interaction, easy installation mechanism, and unlimited chat box creation.
Online counselling spans many aspects of life. These aspects are career, relationship, communication, finance, businesses, and many more. Advice seekers, aside from going to mainstream websites, are now relying on self-help blogs from different communities. Chatwing's free chat box can speed up the communication process between bloggers and visitors. Instead of waiting for blog comments, visitors can just post their inquiries in the Chatwing chatroom and the bloggers can answer them directly. They can also log in with their social media accounts and gain the opportunity to expand their networks and make new friends.
Chatwing's free shoutbox also offers a wide range of customization style. Bloggers can choose the color of the shoutbox by adjusting a specific slider. The same notion applies to the adjustment of the widget size. Users can also change the title of the widget so that it will appear more enticing to the chatroom visitors. Recently, the Chatwing team has added the direct link URL option wherein users can create shortlinks and send them directly to their friends and colleagues. They can now engage in private group chats. This is useful for online counsellors who want discussions with a certain group of people.
Chatwing's free chat widget is subject to various developments that will be set in motion before the year ends. These developments will improve the performance of the Chatwing app, and will make it more reliable than ever. Also, the Chatwing team is maintaining a Facebook page to keep its users highly updated.
About Chatwing.com
Chatwing.com specializes in the new field of website chat. Over years, the Chatwing team has introduced live chat widget for hundreds and thousands of blogs. The Chatwing application bridges people from many parts of the world, creating global synergy through the Internet. The shout box can be installed in just seconds, and it can be used for varying purposes such as leisure and Internet marketing. It also allows a user to customize the size, color, and name of the widget. Chatwing is 100% free for everyone.