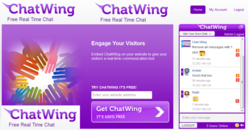 Columbus, OH (PRWEB) September 11, 2012
The Internet is not just dominated by images, widgets, and applets, but also important videos as well. According to global statistics, thousands of webinars and video presentations are being created on a daily basis. These videos are then being watched by many people, creating interconnected relays of visibility that never stops. The Chatwing team was amazed with the growth of webinars and video presentations. To help Webinar makers gain a foothold in the online arena, the Chatwing team has launched a chat widget capable of global communication.
Webinars and videos are often embedded in small blogs and websites that can be sent through links. Chatwing's free chat box can help Webinar makers communicate to website visitors at an easier rate. The Chatwing chatroom operates in real-time, allowing visitors to post their questions and receive answers in just seconds. There is no need to wait because the Chatwing team believes in the importance of time. Now, visitors can ask for information regarding the webinars presented. If a point in the video is confusing, the video maker or webinar host can explain it right away. This is useful in small companies that are highly reliable in teams.
Chatwing's free shout box is known for its high accessibility rate. A single Chatwing chatroom has the capability to add unlimited moderators. This feature has been proven useful for blogs with high ranking—team blogs in such case—as the presence of moderators lets visitors know that the bloggers are always thinking of them. Unlimited shout box creation is also possible with the Chatwing app, making it useful for people who are maintaining multiple blogs.
Expanding to the webinar and online video community is just a single step within Chatwing's grand plan of expansion. In the following months, the Chatwing team intends to launch the free chatbox in other prominent communities such as fashion, finance, entrepreneurship, browser gaming, animal care, and many more. The dev team is also working tirelessly in keeping the Chatwing platform as stable as ever, eliminating many glitches that can impede online communication. Updates will also be posted in Chatwing's Facebook page and series of blogs.
About Chatwing.com
Chatwing.com specializes in the new field of website chat. Over years, the Chatwing team has introduced live chat box for hundreds and thousands of blogs. The Chatwing application bridges people from many parts of the world, creating global synergy through the Internet. The shout box can be installed in just seconds, and it can be used for varying purposes such as leisure and Internet marketing. It also allows a user to customize the size, color, and name of the widget. Chatwing is 100% free for everyone.