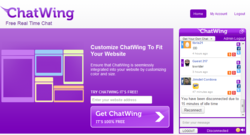 Louisville, KY (PRWEB) September 11, 2012
Being a writer is one of the most fulfilling careers ever, according to many people surveyed across the Internet. However, there are many challenges facing the modern writer today: lack of creativity, distractions, and even dejection. The Chatwing Team has realized the communication needs of every fan fiction or novelist by launching a global chat widget that has simple interaction features.
Chatwing's free chat box can help writers generate ideas through public opinion. Since Chatwing is a micro-chatroom, writers can engage in lively conversations anytime. Additionally, the Chatwing app also allows social media assimilation; this option lets visitors log in using their social media accounts such as Facebook and Twitter. A Chatwing chatroom can also accommodate up to 1000 users, heightening its connectivity rate by more than 100%.
Quick installation is also a feature of the Chatwing chatbox. Based on the Chatwing team's observation, the average installation process of a Chatwing app takes only less than a minute, depending on the preferences of the user. Users can add unlimited chat boxes and moderators, making the Chatwing shoutbox highly reliable in terms of accessibility. Any widget color and size is also available, and users are advised to modify it according to their own tastes. Recently, the Chatwing dev team has added a direct link URL option wherein users can send out shortlinks to engage in private group chats. This feature has made the Chatwing free shout box mobile-friendly and handy.
The web communication that Chatwing offers is not just beneficial for writers and novelists, but also to bloggers and all web surfers. Aside from an entertaining chat experience, the Chatwing team offers a unique way of delivering information regularly. Many people from different online communities are now starting to use Chatwing app for their daily lives.
About Chatwing.com
Chatwing.com specializes in the new field of website chat. Over years, the Chatwing team has introduced live chat box for hundreds and thousands of blogs. The Chatwing application bridges people from many parts of the world, creating global synergy through the Internet. The shout box can be installed in just seconds, and it can be used for varying purposes such as leisure and Internet marketing. It also allows a user to customize the size, color, and name of the widget. Chatwing is 100% free for everyone.