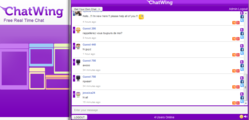 New York, NY (PRWEB) September 11, 2012
Many things can be explored in Internet, such as online businesses, human interest stories, funny comic strips, controversial stories, and even global advocacies. According to professional research, blogging for advocacy is considered one of the largest parts of the Internet. In Weebly alone, the rate of advocacy blog creation is high; using this specific template, the Chatwing Development Team has introduced a website chat box capable of enhanced global communication.
Chatwing's free chat box can be used by advocacy bloggers to find supporters for their cause. Additionally, the Chatwing chat app allows social media integration which can be really useful in the long run. Through Chatwing's social media potential, users can now log in with their Facebook or Twitter accounts. These visitors can now send out invitations to each other. Real-time communication is also fast in the Chatwing chatroom, greatly improving the way information is relayed.
The Chatwing chat box is compatible to many blogs and websites because it operates in an understandable and simple platform. A Chatwing user is also entitled to unlimited chat box creation and this is useful if he is maintaining two or more blogs. Weebly advocacy bloggers who have used the Chatwing application have experienced a high rate of online presence for their blogs. The Chatwing team has recently stated that increase in visibility is affected by blog content, blog style, and the level of interaction presented by the blogger.
The Chatwing team has many plans for the development of the free shout box. In this way, more advocacy bloggers will be able to improve their levels of communication by a high percentage. Bloggers from other communities are also included because Chatwing's dedication will always remain universal.
About Chatwing.com
Chatwing.com specializes in the new field of website chat. Over years, the Chatwing team has introduced live chat widget for hundreds and thousands of blogs. The Chatwing application bridges people from many parts of the world, creating global synergy through the Internet. The shout box can be installed in just seconds, and it can be used for varying purposes such as leisure and Internet marketing. It also allows a user to customize the size, color, and name of the widget. Chatwing is 100% free for everyone.