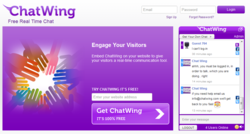 San Diego, CA (PRWEB) September 11, 2012
TV streaming is one of the most engaged activities online, according to Chatwing dev team. TV streaming provides web surfers with the convenience and control that conventional TV viewing can't provide. Popular TV programs have set up websites and blogs to accommodate the demands online. Online users are fond of discussing about the latest episodes, gossiping about their favorite actors or just sharing their favorite parts and dialogues. Chatwing team introduces a free chat widget for TV streaming sites to provide web surfers with a reliable chat platform to interact with other TV series enthusiasts.
The improved Chatwing chat application is user-friendly. Users can customize it in a lot of ways he pleases—from the widget's size to font color and message background. For a more advanced alteration, CSS customization is already available. Chatwing free chatbox has easy-to-follow instructions for installation and it only requires a few seconds to get done. TV streaming bloggers can also choose the form of chat tool he would like to embed in his blog—regular shoutbox, pop-up window or direct URL link. Each style has its own notable advantages. The regular chat box can be used for mass chatting, allowing up to a thousand users to interact with each other while the direct URL link is built for group chats.
Installing Chatwing's free shoutbox helps the website increase its traffic and online visibility. The enhanced chat app has social media integration and social sharing features that make communicating with Facebook and Twitter users effortless.
For TV programs with various websites or blogs, Chatwing free shoutbox has a moderator feature permitting a user to assign moderator to each existing chat tool. The chosen moderator must have a Chatwing account first—which can be easily accomplished by signing up at Chatwing's home page.
To keep users enticed and satisfied, the Chatwing team is continuously finding ways to improve the chat widget. Chatwing's developers also believe in the general strength of real-time communication between many online users.
About Chatwing.com
Chatwing.com specializes in the new field of website chat. Over years, the Chatwing team has introduced live chat widget for hundreds and thousands of blogs. The Chatwing application bridges people from many parts of the world, creating global synergy through the Internet. The shout box can be installed in just seconds, and it can be used for varying purposes such as leisure and Internet marketing. It also allows a user to customize the size, color, and name of the widget. Chatwing is 100% free for everyone.