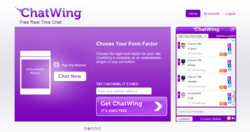 Tucson, AZ (PRWEB) September 12, 2012
Everyday, people around the world are enjoying several glasses of wine. In the Internet, discussions about the different types of wine are constantly growing to high percentage. Based on the research of the Chatwing team, blogging about wine types and its characteristics has already become a major premise in the Ucoz community. To further accelerate the growth of this niche, the Chatwing team has introduced a website chat box with helpful communication features.
Wine blogs typically discuss the best wines from different parts of the world. Factors such as the most delicious oak-aged wine and cultivating a vineyard are also commonly discussed. Chatwing raises a toast to these bloggers and clearly emphasizes the importance of a user-friendly and free chat box. With the Chatwing chat app, these bloggers can now communicate effectively—visitors post questions in a real-time manner, eliminating the need to wait for hours, or even days. Naturally, the visitors can also post links in the Chatwing chatroom.
Chatwing users can highly modify the appearance of their free shout box. After registration, they can now pick a color that will fit the theme of their blogs. Users can just adjust sliders to get the right color match. The process for choosing the widget size is also the same. Chatwing also prompts its users to rename the widget for an increased accessibility. This rate of customization has largely contributed to Chatwing's growing popularity. Today, many bloggers are now using the Chatwing chatbox compared to its early inception, more than three years ago.
The standards set by Chatwing's developers are high, but attainable. Aside from the wine blogging niche in Ucoz, the Chatwing team intends to reach out to other famous niches as well, such as fashion, gaming, web development, entrepreneurship, personal finance, home care, podcasting, general tips, and many more. Chatwing team is also looking forward to a series of platform upgrades and developments.
About Chatwing.com
Chatwing.com specializes in the new field of website chat. Over years, the Chatwing team has introduced live chat widget for hundreds and thousands of blogs. The Chatwing application bridges people from many parts of the world, creating global synergy through the Internet. The shout box can be installed in just seconds, and it can be used for varying purposes such as leisure and Internet marketing. It also allows a user to customize the size, color, and name of the widget. Chatwing is 100% free for everyone.