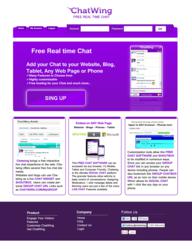 Cambridge, MA (PRWEB) September 12, 2012
Podcasting, one of the most common activities in the Internet today, will step up in a new age with the help of Chatwing's globally inclined web chat box. Generally, the Chatwing team has pondered that podcast blogs and websites can become better places if they have a form of intact and handy communication. The Chatwing chat app provides a professional solution through its simple features such as social sharing, easy installation, high rate of widget modification, and adaptable form factors.
Podcast blog visitors can use Chatwing's free chat box to discuss the type of music that they like. Apart from that, they can also use the Chatwing app to communicate with other visitors in the website. With this rate of communication, the podcast blog's activity will gradually increase. This is the reason why some users refer to Chatwing chat app as 'visibility buddy.' Some bloggers have noted that the online visibility of their blogs have increased twofold in just few days of uninterrupted usage.
The Chatwing chatbox is also useful for bloggers who are engaging in a specific niche. Now, these bloggers can have a handy application that directs to them to groups of people regularly. Listeners of podcast blogs can share their favorite songs and albums, and they can also send links directing to their own blogs. For visitors, using the Chatwing chat app is a simple thing; first, the visitor can log in with his Facebook or Twitter account. Alternatively, he can try the Guest option, where he will be prompted to use avatars. After logging in, the visitor can start posting his messages in the Chatwing chatroom. A Chatwing admin also has the opportunity to have unlimited chat boxes for each blog or websites he owns. This 'multiple features for free' style has benefited thousands of users online.
As September continues on, the Chatwing team has anticipated that the influx of users will grow, and many of them will see the importance of the free shout box. Aside from podcast blogs, forum sites and message boards are also parts of Chatwing's strategic campaign. The Chatwing team is also recently busy in trying out sketches for their new upgrades.
About Chatwing.com
Chatwing.com specializes in the new field of website chat. Over years, the Chatwing team has introduced live chat widget for hundreds and thousands of blogs. The Chatwing application bridges people from many parts of the world, creating global synergy through the Internet. The shout box can be installed in just seconds, and it can be used for varying purposes such as leisure and Internet marketing. It also allows a user to customize the size, color, and name of the widget. Chatwing is 100% free for everyone.