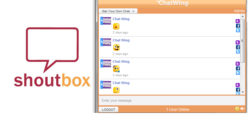 San Diego, CA (PRWEB) September 12, 2012
The automotive industry has continued to bloom with the advent of the Internet. The evidences of this bloom can be seen through hundreds and thousands of blogs and websites delving in the automotive industry. Seeing the growth of the automotive niche in blogging, the Chatwing team has introduced a website chat box that can help bloggers in Weebly gain a strong subscriber foundation. Additionally, the Chatwing app initiates effective online communication between bloggers and their visitors.
Automotive bloggers in Weebly would often tackle about the specifications of various cars and vehicles. Others may discuss rims and interiors, while many bloggers often share their experiences about cars they bought. Whichever the case, the Chatwing team simply believes that these bloggers need a reliable application that can help them reach large markets. Chatwing's free chat box can be a professional solution when it comes to website communication and blog visibility enhancement. The chat app's easy usage mechanism has contributed to its high overall rank.
To install Chatwing's simple chatbox, the user just needs to register his blog's domain name. After that, he can now proceed to the customization phase. In this part, he will be prompted to modify the appearance of the widget to fit the theme of his blog or website. Once completed, the user can now retrieve the HTML code and embed it to his blog. After that, the Chatwing app can go live right away.
The Chatwing team believes that bloggers deserve a form of handy chat app that can help them communicate with large groups of people. To deal with large influx of users from different communities, the Chatwing team will continue developing the free shout box. This will also ensure that many people will be able to delve in easy and effective web communication.
About Chatwing.com
Chatwing.com specializes in the new field of website chat. Over years, the Chatwing team has introduced live chat widget for hundreds and thousands of blogs. The Chatwing application bridges people from many parts of the world, creating global synergy through the Internet. The shout box can be installed in just seconds, and it can be used for varying purposes such as leisure and Internet marketing. It also allows a user to customize the size, color, and name of the widget. Chatwing is 100% free for everyone.