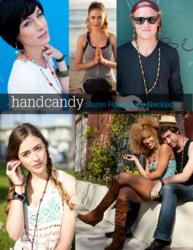 "No longer are we limited in our headphone choices to just white earbuds," Mark Zimmerman, Handcandy's President says. "With Handcandy you can accessorize your headphones with whatever you are wearing that day."
New York, NY (PRWEB) September 21, 2012
Handcandy -- the new line of fashionable headphone accessories now available at select Urban Outfitters, Urban Outfitters.com and at the world famous Fred Segal store in Santa Monica, CA – has only been available for a few weeks and it is already making an impact. The headphones that let you express yourself, sold out of several lines at Fred Segal.
"We've gotten a great response so far because everyone is looking for new ways to express themselves, and that's what Handcandy is all about," Mark Zimmerman, Handcandy's President says. "No longer are we limited in our headphone choices to just white earbuds. With Handcandy you can accessorize your headphones with whatever you are wearing that day."
Available in two lines – DuneTunes and LadyBuds ($40 retail) – these handmade headphones not only sound great, but feature an in-line microphone for hands free talking for smartphone use; a 3.5mm audio pin compatible with iPhone, iPad, iPod or MP3 players; subtly located magnets that hold the headphones on your neck even while jogging; three sizes of silicone earbuds for maximum comfort; and a 26" extender in case you need more length if your phone or MP3 player is in your pocket or backpack.
The four distinctive styles in the DuneTunes line are infused with a surf and sand casual vibe; while the six styles in the LadyBuds line, range from yoga comfort to cocktail dress cool. Handycandy was inspired by Zimmerman's and Creative Director Anne Herlihy's observation while walking through New York that nearly everyone they saw was wearing headphones and almost all of them looked exactly the same.
"When you look around the streets of any city in the world people are personalizing their phones, tablets and MP3 players in amazing ways, but the headphones are almost always plain, white and very utilitarian," Herlihy says. "We started Handcandy to bring fun and fashion to headphones. Now you can choose the headphones that suit you. Or change them to suit your mood. High performance sound and a cool way to express yourself -- that's what Handcandy is all about."
Handcandy headphones are available at Urban Outfitters in New York, Chicago, and Florida and at urbanoutfitter.com, and at Fred Segal, Santa Monica, CA., as well as at Pyones in New York and West Coast skate/surf mainstay ZJ Boarding House, For more information got to http://handcandy.net/