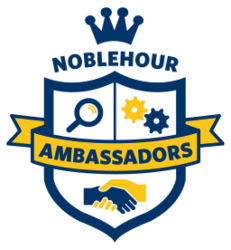 "Instead of making coffee and copies, we want our interns to make a difference."
Lakeland, Fla. (PRWEB) September 06, 2012
NobleHour, a social platform for volunteerism and community engagement, is searching for interns to participate in this fall's NobleHour Student Ambassador Internship Program. The internship program will provide students with the resources and tools to build a stronger community – and a stronger resume, as well.
The NobleHour Ambassador Program develops teams of motivated students, in communities across the nation, to help connect local organizations and promote the NobleHour platform. Ambassadors can gain experience in marketing, advertising, sales, journalism, and community organizing.
"Instead of making coffee and copies, we want our interns to make a difference," said Pia Simeoni, NobleHour's director of marketing.
NobleHour ambassadors create strong community ties by connecting with local non-profits, schools, businesses, and government institutions that need to promote events, jobs, internships or volunteer opportunities. They think of creative ways to educate their community about the power of NobleHour's free and paid features.
NobleHour is free for any organization that needs to find workers or volunteers, or any individual that needs to find work. NobleHour's paid communities offer comprehensive community engagement tools for hour tracking, member management, and social sharing.
"At NobleHour, we're working for the greater good. We believe that hour tracking and management tools should be affordable and accessible to even the smallest non-profit organizations. Everyone should be able to connect and measure the impact they're making in the world," said NobleHour managing partner, Scott Fore.
In addition to helping others create a lasting impact, Noblehour Ambassadors will create their own impact through service projects with local non-profits.
Anyone looking for a meaningful internship with a growing social enterprise is encouraged to apply at http://noblehour.com/ambassadors. Applications are accepted on a rolling basis, so preference is given to those who apply first.
About NobleHour
NobleHour is based in Lakeland, FL and was started by a team of knowledgeable business investors, representing over 70 years of unparalleled entrepreneurial and business experience. They developed SweatMonkey.org in 2005 as an online service learning management platform for students and schools. SweatMonkey was used by countless organizations such as the YMCA, the SPCA, the United Way of North Central Florida, and the University of Florida. SweatMonkey was rebranded and launched in 2012 as NobleHour.com, an engaging online community platform that includes content sharing, a database of volunteer and job opportunities and events, hour tracking tools for tracking community service hours, and community impact measurement tools. NobleHour's mission is to provide an engaging platform to help connect people with their communities to empower civic engagement.