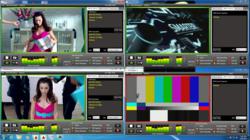 Clearwater, Florida (PRWEB) September 06, 2012
Vela Research announced the addition of Video Logging as a major feature-set to its versatile ArgoNavis SDI & VANC Multi-Viewer which enables operators to view, monitor, log, record and analyze video and audio content.
The ArgoNavis Multi-Viewer provides a cost-effective solution for call letter stations, Station Groups, and Cable Networks to ensure the quality, integrity and regulatory compliance of their programming content. The ArgoNavis also provides a full-fledged set of LKFS capabilities, measurements, alerting and logging features to allow operators to comply with the CALM Act.
The enhanced Video Logging feature provides a real-time, 1920x1080i resolution, full frame rate H.264 encode of the ArgoNavis system's output for signal verification and creation of compliance records, The output displays the independent video inputs, as well as the associated audio levels, LKFS values, Closed Captioning and any detected errors or alarms. The logs can be segmented into hourly files to enable operators, compliance officers and management to quickly locate, view, share and distribute content relating to a specific period or duration. These indexed log files can be decoded and viewed in most common clients and video players such as QuickTime and VLC.
The ArgoNavis Multi-Viewer system is an advanced professional solution that is designed to provide a high quality real-time viewing, monitoring, and logging capability for all of your channels or programming, as well as to generate the raw data, metrics and measurements that are displayed in real-time to enable prompt response to emerging situations needing attention. Further, the system enables the data and metrics to be logged for record-keeping and reporting purposes in an efficient, cost-effective manner, allowing broadcasters, cable operators, IPTV and OTT providers to prove compliance at any past moment in time, when necessary.
For information and spec sheets on Vela's ArgoNavis family of affordable, high performance multi-screen, multi-format encoders, decoders, SDI &VANC monitors, transcoders, servers and multi-viewers, please click here. Users interested in further information or test-driving the ArgoNavis can contact Kevin McDowell at 954-558-2063 ([email protected]).
About Vela: Vela® is an Emmy® award winning company offering a complete range of high quality SD and HD products for the broadcast, cable, post production, enterprise and education markets. Vela designs and manufactures system and board level solutions used in a variety of media applications. The board level products are also integrated into advanced systems and video servers offered through Vela and its partners. Over the past 18 years, Vela has earned recognition by virtue of the trouble-free, high-performance and cost-effective solutions in use in demanding customer environments worldwide. Vela is based in Clearwater, Fla., USA, and is on the web at http://www.vela.com.