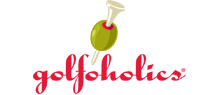 The explosion of our FB community is a direct result of the engaging content the Golfoholics team churns out on a daily basis
Leesburg, Virginia (PRWEB) September 06, 2012
When Golfoholics launched their Facebook page (facebook.com/golfoholics) late last year, they had an ambitious goal of enlisting 10,000 fans by the end of 2012. Today, they're three and a half months ahead of schedule.
What's unusual was that the startup decided to build its online community before its website. They only recently launched their beta site at golfoholics.com which features entertainment content and a line of Golfoholics gear featuring their award-.‐winning tee & olive brand. Each month, the Golfoholics' brand reaches approximately 250,000 people through its Facebook page. Their most popular individual posts have reached over 100,000 people each.
"The explosion of our FB community is a direct result of the engaging content the Golfoholics team churns out on a daily basis," said Bill Replogle, Chief Execuive Addict and Founder of Golfoholics, Inc. "Now we're working on ideas for a TV show, expanding our line of branded merchandise, and raising some angel funding to accelerate our growth." According to Replogle, there are over 25 million golfers in the U.S., and Golfoholics wants to get to know them all.
"This is one of the most addictive games known to man. Or woman, for that matter. Our community allows them to revel in their addiction to the game, while our brand is a fitting badge of honor for golf junkies far and wide." The Golfoholics brand is featured not only on the company's social media content, but a line of hats, shirts, bags and ballmarkers as well.
And the company is adding new merchandise to their collection regularly. While not available in stores or pro shops yet, the gear is for sale on golfoholics.com. The company reports that their apparel has been worn by Bill Murray, Donald Trump, Ahmad Rashad, Catherine Zeta‐Jones and Michael Douglas, among others.
They hope to get a touring pro to wear it in 2013. When not feeding his golf addiction, Replogle runs Sparky's Garage, a branding, advertising, and digital media shop, and writes golf stories which were the genesis of the Golfoholics brand.
For more on Golfoholics, call Will Marlow at (202) 577‐3350 or email will(at)willmarlow(dot)com