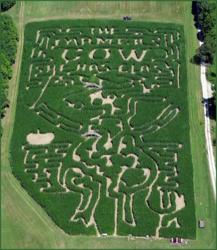 Celebrate the Harvest on Saturday, September 15, 1-4 pm. Fun activities include FREE admission to the Mini Moo Maze, hay rides, farm and garden activities and samples of The Farmer's Cow ice cream and other fresh local products.
(PRWEB) September 06, 2012
The Farmer's Cow Corn Maze Adventure and Mini Moo Maze is now open at Fort Hill Farms in Thompson. Open daily through November 8, visitors are encouraged to products.
This year the elaborate design of the six-acre maze is agricultural and local food education. The maze pattern features a cow "teacher" holding class in front of a school desk adorned with an apple. Visitors navigate the maze by reading fun facts. A game sheet asks questions and offers clues to answers found at over 20 desks placed throughout the maze. Subjects range from environmental science and math to English and Latin to psychology and philosophy.
The Mini Moo Maze is a labyrinth specially designed for children aged 6 and under with wide paths for strollers and includes a Finger Fortune Game that is fun for all ages!
Admission to The Farmer's Cow Corn Maze Adventure is $12 for adults and $10 for children 12 and under. Admission to the Mini Moo Maze is $7 for all ages. Hours are 10 am to 9 pm daily. "Flashlight Nights" are featured daily after dusk. Call ahead for "Flashlight Night" weather status. BYO flashlights. Group discounts are available for all types of groups including public, private and home school groups.
"Learning about agriculture is always fun with The Farmer's Cow," said Robin Chesmer, managing member of The Farmer's Cow. "We hold tours of our farms throughout the year so folks can learn about farming and where their food comes from. This season's corn maze is a great way to enjoy the challenge of the maze and learn something about farming and where your food comes from along the way!"
The Farmer's Cow and Fort Hill Farms were named 2012 Tourism Ambassadors by the Connecticut Conference on Tourism. Last year, thousands of visitors explored the Corn Maze Adventure at the scenic Thompson farm that has been in continuous agricultural production for more than 300 years. Additionally Fort Hill Farms was named "Best of New England for 2012" by Yankee Magazine.
For more information call Fort Hill Farms at 860-923-3439 or email info(at)forthillfarms(dot)com.
About The Farmer's Cow
The Farmer's Cow is a group of six Connecticut dairy farms that produces fresh, local milk, half & half, heavy cream and ice cream for Southern New England. The Farmer's Cow dairy products are pasteurized the "traditional way" and are never ultra‐pasteurized. The members of The Farmer's Cow do not use Artificial Growth Hormones (rBST) on any of their cows. They also sell Connecticut‐sourced, all‐natural eggs, apple cider, seasonal beverages and coffee. The Farmer's Cow's mission is to promote Connecticut agriculture and prove to consumers that "Local is Fresh!"