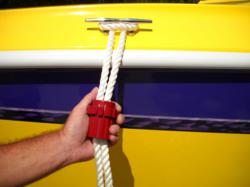 Major distribution into retail takes time and money. This is not easy work
Brentwood, TN (PRWEB) September 07, 2012
On September 12, 2012, Just Right Products LLC will again gather in Bentonville, Arkansas with Wal-Mart's buyers to discuss future distribution of the patented Super Rope Cinch knot-tying device. This will mark the second visit with the retail giant where distribution of the popular rope-securing device will be discussed.
In addition to two meetings at the Wal-Mart Bentonville, Arkansas headquarters, the Super Rope Cinch boating and hardware device was first presented in southeast Michigan at the regional level to eight stores, a regional manager and a district manager in October 2010. The device was presented to the group where it received eight out of eight written store approvals, along with signatures from both the regional and district managers. Store-level and regional approval can be just one of many steps required to gain national distribution with the nation's largest retailer.
Just Right Products LLC again spoke with Wal-Mart in June 2011, shortly after attending the National Hardware Show in Las Vegas where the Super Rope Cinch gained a lot of attention and picked up hundreds of new retailers. As Just Right Products LLC would then find out, timing is also a key ingredient to gaining distribution. At the time, Just Right Products LLC was told by another hardware product provider that Wal-Mart may be in the middle of eliminating thousands of products to make room for both faster-moving, and newer, more innovative products. Coincidentally, Wal-Mart told Just Right Products LLC the timing was not yet right for the rope-securing device.
According to Drew Bourke, vice president of Just Right Products LLC, "We have to trust that Wal-Mart will agree distribute the Super Rope Cinch when the timing is right for them. Obviously, they look to see if the product is moving elsewhere, and our strong sales are proving that our product leaves the shelves quickly. Placement at Wal-Mart will be a key ingredient for us."
Another item that Just Right Products LLC hopes to discuss with Wal-Mart is the fairly new Wal-Mart TV in-store video promotion. Wal-Mart uses a small LCD panel TV positioned in-front of featured products to help educate consumers on their usage and also increase sales. Just Right Products LLC currently provides a free 60-second loop DVD TV commercial to all of its retailers that utilize in-store video. According to stats published by Wal-Mart in 2012, Wal-Mart TV can increase sales 53% on most any product it is used on.