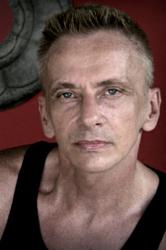 Audacity, Imagination and a Seductive Twist on Vinyasa Yoga - Le Male Yoga's Flow Yoga Party brings the Tropical Rainforest to New York City
New York City (PRWEB) September 25, 2012
Joschi Schwarz, owner of Le Male Yoga in the heart of New York City, is well known for his theme based Flow Yoga Parties, which have been featured on NBC New York. From the '70's' and '80's' to 'Erotica' and 'Michael Jackson', Schwarz has the ability to transform his studio into an inspirational escape, giving students the possibility to enter a world of imagination.
Having recently returned from a trip to the Costa Rican Rainforest, Schwarz has been inspired to bring the rainforest to New York City and share his magical experience with his Le Male Yoga community. The studio will be transformed in the colors, sounds and smells of the rainforest creating a unique tropical atmosphere.
It is Joschi Schwarz's intention to create an experience of audacity and imagination for his students. Combining powerful athleticism, high energy flow yoga sequences and inspiring creativity in this imaginative Yoga workshop, Schwarz invites everybody to leave all inhibitions at the door and join him for a mystical Yoga journey that brings us back to life.
Date: Saturday, October 27, 2012 at 2:30pm
Location: Le Male Yoga at 163 West 23rd Street, New York, NY 10011
RSVP: info(at)LeMaleYoga(dot)com
About Joschi Le Male
NYC's Premier Yoga Studio for Men. Le Male Yoga's style of yoga - Vinyasa (Flow) - is for men with a good level of physical fitness who are interested in building strength & flexibility for body & mind. Le Male Yoga's welcoming and supportive community offers a unique opportunity to connect with a vibrant mix of men from all flows of life who are looking to initiate a lifestyle that liberates, expands and energizes!
Le Male Yoga's mission is to provide great men's programming to foster community, relationships, and conscious living in a fun, warm and judgment-free atmosphere. The best thing about the LMY community is its unique culture - an open-minded and inclusive environment for all men - gay, straight or bisexual.
Le Male Yoga creates extraordinary retreats and workshops in the greatest city in the world - New York City. LMY offers new adventures full of possibilities and encourages an atmosphere for men to connect with others, play, rest, relax and rejuvenate!
As an experienced and internationally recognized Yoga Alliance Registered School Joschi Schwarz and Monika Werner are dedicated to share their knowledge with men and women in several Yoga Teacher Training Certification Programs throughout the year.