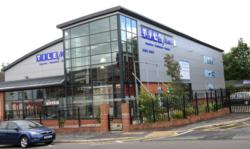 (PRWEB UK) 7 September 2012
Tile Mart's showroom is the largest of its kind in the UK and offers 20,000 square feet of display space, allowing the company to showcase their extensive collection of not only modern, contemporary and luxurious tiles but also their recently launched bathroom and sanitary ware range.
Since the companies formation in 1994, Tile Mart have had one simply philosophy; to inspire those looking to purchase a wide range of tiles through their extensive collections and exclusive ranges. Over the past 18 years; Tile Mart has grown to become one of the UK's largest independent tile retailers, staying true to their mission and regularly expanding their product lines.
Tile Mart's Preston based showroom was officially opened by Mark Lawrenson (BBC Football Pundit) in March 2011 and furthermore, Sir Tom Finney unveiled their 'Splash' mosaic (Famous photo taken in 1956 known as The Splash) which is made up of 142,129 individual pieces. The design team responsible for creating this spent a total of 5 months from design to completion as well as countless hours of painstaking and meticulous hard work.
The companies Bolton showroom displays the stunning recreation of the painting uses more than 85,000 pieces of tile and spans 13 feet. A team of 12 ceramics experts in Italy worked for almost 400 hours on the project before it was shipped in pieces to Tile Mart in Chorley Old Road, Bolton. It was unveiled by former Bolton Wanderers boss Sammy Lee, and former Preston and England legend Sir Tom Finney at the official opening of the store. The mosaic was the brainchild of Tile Mart's director, Zuber Patel, who commissioned the work as a lasting monument to the town's football heritage.
The launch of the new website comes in conjunction with the new tile showroom in an attempt to showcase Tile Mart's collections to a wider market, inspiring customers to visit the showroom in person to see their purchases and speak with one of the company's specialist advisors. Staying true to their original goal; Tile Mart wants to ensure that every customer walks away with the tiles or bathroom products which suit them perfectly. Second best will never do for Tile Mart, a company always happy to go that extra mile to ensure customers receive the products which they want, whatever it takes.
In addition to the brand new website and showroom; Tile Mart are pleased to announce the addition of the exclusive Versace range of tiles to their ever growing collection. The range is a collaborative venture between Gianni Versace and Gardenia Orchidea and is certainly set to turn some heads on prime display in the showroom.
Above all; in order to fully appreciate the vast collections of modern, contemporary and luxurious tiles on offer from Tile Mart, a visit to their Preston based show room is an absolute must. In the mean time, why not head over to their website and browse their collections and inspire yourself?