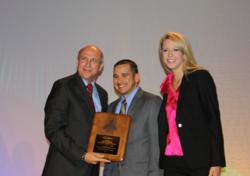 Kim and David's innovative and collaborative efforts truly represent the future of the Credit Union movement
San Antonio, Texas (PRWEB) September 07, 2012
For the second year in a row, Generations Federal Credit Union has been named as the recipient of the 2012 Desjardins Youth Financial Education Award for the State of Texas. Generations was recognized for its innovative and edgy "No Suckers Here" program which is designed to convey to area students the importance of being prepared to deal with personal financial matters. This is the tenth year that the Texas Credit Union League has presented the award.
The "No Suckers Here" program works with high schools, colleges and universities across Bexar County, and includes financial education classes, scholarships and internships. The program reaches more than 3,500 local students each year. Prior to launching a program, Generations meets with school administrators to determine the specific needs of their student body. A program is then designed around that input, as well as feedback from the students.
The No Suckers Here program is spearheaded by Generations Federal Credit Union Financial Education Advocate, David Rodriguez and Student Brand Manager, Kimberley Blohm.
As part of the Desjardins award, Generations was also recognized for its awareness and collaboration with area colleges and universities, including its groundbreaking financialliteracy101.org program. FinancialLiteracy101.org provides a multimedia course on financial basics for all Alamo Community College students who receive financial aid.
"Generations has a strong history of providing financial education to our entire community: from consumers, to small businesses and of course, students," said Tim F. Haegelin, president and CEO of Generations Federal Credit Union. "For David and Kim's peers to single them out for their tremendous efforts is an honor they well deserve. Their innovative and collaborative efforts truly represent the future of the Credit Union movement."
Blohm and Rodriguez received the award on Thursday, September 6, during the annual Texas Credit Union League Leadership Conference held in San Antonio.