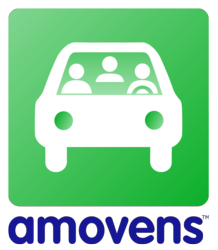 Austin, TX (PRWEB) September 11, 2012
The Fun Fun Fun Festival is cutting its greenhouse gas emissions by partnering with online ridesharing network Amovens for the second year in a row. In addition to providing festival-goers with an affordable, sustainable transportation alternative, Amovens is also raffling off two free weekend passes to the festival to one lucky carpooler.
Festival-goers can use either the Fun Fun Fun Fest's own carpool website or Amovens' free iPhone app to register as either a driver or passenger to the festival, being held November 2 – 4 at Auditorium Shores in Austin, Texas. Once their ride is posted, users will be automatically entered to win.
Amovens lets drivers sell unoccupied seats in their cars to other users to help cut down on travel costs such as gas, tolls and parking, while reducing the festival's carbon footprint. The result is higher festival attendance with fewer cars and emissions.
With more than 50,000 registered users, Amovens has helped eliminate more than 3.5 million pounds of carbon emissions and saved passengers and drivers more than $2 million.
"By using Amovens ridematching network, Fun Fun Fun Fest is providing fans with an affordable and sustainable transportation alternative," said Diego Hidalgo, CEO of Amovens. "Not only does implementing a rideshare program help cut Pitchfork's carbon footprint, it also reduces parking needs and traffic congestion during the festival." Festival-goers also get the opportunity to meet and travel with other fans, extending the festival experience beyond the performances themselves and turning the tour into a truly memorable, social experience.
Fans will be able to access the ridesharing platform directly from the festival's website, or through Amovens' events page.
About Fun Fun Fun Fest
In 2006, Fun Fun Fun Fest booked its first set of acts in downtown Austin and it didn't take long for it to become the darling of independent festivals for music lovers and music makers in the United States. Throughout the years, Fun Fun Fun Fest has become renowned for its musical lineup, as well as its collection of comedy, food, fashion, and poster art experiences.
Now in its seventh year and recognized as one of the most relaxed, creative, and pioneering festivals in music today, Fun Fun Fun Fest is custom booked for the most passionate, underground, and progressive musicians, comedians and fans around the world.
About Amovens
Amovens is an international ridesharing platform that works with corporations, universities, local governments and events to help reduce their carbon footprints and parking needs, all while lowering transportation costs for their community members. Amovens has partnered with more than 140 events and corporate clients such as Ford, Ericsson, and Banco Sabadell. Amovens is based in Madrid, Spain, with offices in Europe and North America.