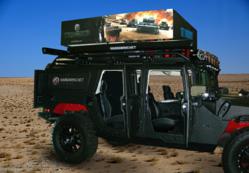 Pleasant Prairie, WI (PRWEB) September 07, 2012
Catalyst Exhibits, Inc., an award winning global exhibit company, and client Wargaming.net, are excited to announce the commencement of a possible eight-stop, mobile-marketing tour that will showcase the game maker's award-winning suite of massively multiplayer online (MMO) games. The tour's first stop is scheduled to debut at the California Capital Air Show September 8th-9th in Sacramento, California.
Travelling from stop to stop in a customized Hummer H1, the tour will introduce consumers to Wargaming.net's hugely popular collection of online multiplayer war games. Players will have the chance to battle each other in the globally renown tank game, World of Tanks, a fighter plane game, World of Warplanes, and a soon to be released battleship game, World of Warships.
Wargaming.net's customized Hummer H1 has been designed to capture the excitement and imagination of consumers attending airshows and other events throughout the country. The massive military vehicle features eye-catching graphics, an impressive ordinance of hi-wattage speakers, large flat-screen monitors, and multiple gaming stations. The Hummer has all the presence and personality of Wargaming.net's company slogan, "Let's Battle!" Wargaming.net's first scheduled appearance at the California Capital Air Show September 8th-9th has been eagerly anticipated by the event's organizers and attendees. Details for the tour's upcoming stops will soon be released.
Catalyst Exhibits, Inc. is a global exhibit company offering a range of solutions guided by the client's underlying marketing strategy. Headquartered in Pleasant Prairie, Wisconsin, with offices in San Francisco, Amsterdam and Shanghai, Catalyst Exhibits, Inc. employs a collection of skilled designers and associates ready to showcase your organization to the world.