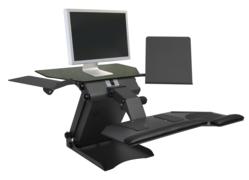 We have listened to what is important in the day to day operations for business owners and their employees." says Lisa Beringer, HealthPostures Manager
Burnsville, MN (PRWEB) September 11, 2012
HealthPostures, LLC has launched a new website to create a one-stop site for sit stand ergonomic solutions at work. HealthPostures believes that encouraging a sit stand ergonomic workplace will promote healthy interaction between people and tasks.
It stands to reason when a person sits on the job for 8 hours a day, 5 days per week, 52 weeks per year, that there is an increased probability of workplace injury and discomfort. Nobody would choose to work in pain and most business owners do not want to pay for missed days of work and costly worker compensation fees. The best solution is to work with a sit to stand ergonomic product that is adjustable and allows a person to move freely while staying on task.
The TaskMate from HealthPostures (http://www.healthpostures.com) will provide this sit to stand ergonomic solution in many work areas at a fraction of the cost of most other height-adjustable products. This idea of a dynamic workplace is changing how people work in a number of applications. A call center associate that is working on a computer in a cubicle now has the ability to use this sit to stand ergonomic product throughout the day without disrupting the work-flow or co-workers. Meanwhile, the TaskMate is providing an adjustable POS system for the cashier behind the check-out counter at the gift shop. This is all being done without expensive renovation and installation cost.
Employees and employers will find information on this new web site that switching from sitting to standing though-out the day has many benefits including physical alertness, increase productivity and staying fit while on the job.
Incorporating the use of the TaskMate at work is a cost-effective way to utilize a sit to stand ergonomic system. Business owners can integrate the TaskMate into the workplace and avoid remodeling cost because there is no need to remove desks or cubicle walls to make room for a large and bulky height-adjustable table. The TaskMate will set securely onto an existing desk or counter without taking-up a large amount of space. Sit to stand ergonomic TaskMate videos are available at http://www.healthpostures.com
"To live up to expectations of our customers and target group of sit stand ergonomics customers, this one-stop website has to offer a complete range of information about sit stand ergonomic products.", Lisa Beringer, Manager of HealthPostures, LLC, explained.
The new website also contains information about how implementing a healthy sit stand environment in the workplace can be beneficial to both employees and employers, with links to informative ergonomic sites that support the idea of healthy movement in the workplace. The benefit of a healthy sit stand workplace is the theme throughout the entire website.
Learn more about the sit stand ergonomic TaskMate by visiting http://www.healthpostures.com