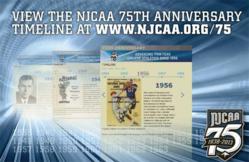 Colorado Springs, CO (PRWEB) September 06, 2012
NJCAA Headquarters in Colorado Springs is pleased to announce the launch of a new timeline available on the organization's website. The timeline highlights each year of the organization's rich 75-year history and can be accessed here or by visiting the special 75th Anniversary section of its website at http://www.njcaa.org/75.
The detailed timeline will be released in three time-periods with the first installment highlighting years 1937-62. The first edition provides insightful information regarding the founding years of the NJCAA, including its early leadership and notable contributors, which helped the organization rise to national prominence in the United States.
The two remaining time-period installments will be released later during the 2012-13 academic year and will highlight years 1963-87 and 1988-2013.
About the NJCAA
Since 1938 the National Junior College Athletic Association (NJCAA) has been the governing body of two-year college athletics, offering athletic and academic opportunities to college students. Now entering its 75th anniversary, the NJCAA is the second largest national intercollegiate athletic organization in the United States with over 500 member schools in 43 states. Each year over 60,000 student-athletes compete in one of 28 different sports and the organization sponsors 48 national championship events and nine football bowl games. NJCAA Headquarters has been located in Colorado Springs, Colo., since 1985. For more information visit http://www.njcaa.org.