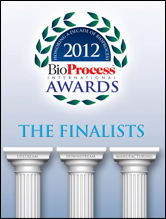 New York, NY (PRWEB) September 06, 2012
BioProcess International announces the publication of "The Finalists" Awards Program for the 2012 BioProcess International Awards - Honoring a Decade of BioProcess. These finalists represent the best technologies, applications, collaborations, and thought leaders of the bioprocessing indiustry over the past decade as nominated and judged by their peers.
The following companies include technologies, applications, collaborations or thought leaders that have been judged as finalists for a 2012 award:
Abbott Laboratories–Ibis Biosciences, Akers Kennedy & Associates, Althea Technology, Amgen, Asahi Kasei Bioprocess, BAC BV, Bayer Cell Culture Development Group/Bayer Technology Services, BioPharm Services, Inc., Boehringer Ingelheim, CHO Genome, City of Hope Medical Center's Beckman Research Institute, Colder Products Company, Crump Institute for Molecular Imaging's Department of Molecular and Medical Pharmacology at UCLA's David Geffen School of Medicine, deltaDOT, Ltd., GE Healthcare Life Sciences, Genzyme Corporation, GlaxoSmithKline, Human Genome Sciences, Karlsruhe Institute of Technology, Latham BioPharm Group, Inc., Medimmune, Merck, National Institute for Bioprocessing Research and Training, Pall Life Sciences, Parenteral Drug Association, Percivia, Pfenex, Refine Technology, ReGenesys, Rentschler Biotechnologie GmbH, Sartorius Stedim Biotech, Therapeutic Proteins International, LLC, Thermo Scientific, University of Applied Sciences Biberach, Validated Biosystems, Vetter Pharma, and Xcellerex.
Winners will be announced as part of the 2012 BioProcess International Conference and Exhibition produced by IBC Life Sciences. To learn more about the conference, or to purchase tickets to the awards dinner and ceremony ($125.00), please click on the following link, enter code BPIEHO12BC, choose your registration preference and select BioProcess Awards Ceremony & Dinner. https://www.ibclifesciences.com/BPI/register.xml?step=start
About BioProcess International
BioProcess International (BPI) is a business-to-business publication dedicated to delivering cutting-edge information focused on the development and manufacture of biopharmaceuticals and therapeutics. Learn more at http://www.bioprocessintl.com.
To download "The Finalists", please click: http://awards.bioprocessintl.com/finalists