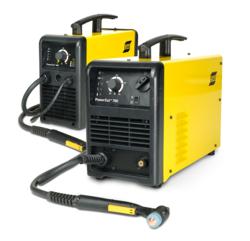 Florence, SC (PRWEB) September 06, 2012
ESAB Welding & Cutting Products introduces the PowerCut 400 and PowerCut 700 manual plasma cutting packages. These two new products complete the PowerCut Series, which offers a full range of plasma products, including the PowerCut 900, PowerCut 1300, and PowerCut 1600.
The PowerCut 400 has a manual cutting capacity of up to 3/8 inch, and severs up to ½ inch. Maximum piercing capacity is 3/16 inch.
The PowerCut 700 has a manual cutting capacity of up to 5/8 inch, and severs up to 7/8 inch with a maximum piercing capacity of 5/16 inch.
"PowerCut machines are more powerful and durable than any other machine in their class," said Doug Smith, ESAB Product Manager. "PowerCut makes plasma cutting easier and more economical."
Featuring longer part life, higher cutting speeds, and a simple torch design, the PowerCut 400 and 700 offer the lowest cost per foot of cut than any other machine in their price class.
In addition to cost savings, the PowerCut machines deliver the highest cutting speeds and thickness capabilities, as well as high duty cycle ratings. This combination results in outstanding productivity and performance.
The PowerCut 400 and PowerCut 700 have a durable, damage-resistant external housing design. This housing is corrosion-resistant and weather-resistant, but remains lightweight for portability. The PowerCut 400 weighs in at 32 pounds; the PowerCut 700 weighs 47 pounds, and both are compatible with engine driven welders when power is not accessible in the field.
The PowerCut voltage booster assists in finishing cuts on thick material, and is ideal for the novice operator. Sensitive internal electronics are suspended from the frame, insulating them from shock and vibration. PowerCut machines are easy to use, making them perfect for experienced operators, or beginners.
Operators can connect either the PT-38 or PT-39 torches to the PowerCut 400 and PowerCut 700. Both machines will also work with the PT-37 torch for mechanized cutting applications. The ergonomic torch design provides maximum comfort when tackling tough jobs, and the compact torch design's shorter front end allows maximum arc visibility when cutting in hard-to-reach-spots.
PowerCut 400
The PowerCut 400 is lightweight and easily carried to the job site or around the shop. Operators can easily adapt to 110V-230V by simply changing the adaptor plugs provided. The machine features Dynamic Arc Control, which allows control of the pilot arc (reduced possibility of arc outage) when cutting grate or mesh material.
PowerCut 700
The PowerCut 700 includes a trigger lock function that allows long cuts without pressing the torch trigger, which reduces operator fatigue.
The PowerCut 700's Grate Cutting Mode maximizes productivity when cutting grate or mesh material.
The PowerCut 700 features a CNC interface and can be plugged directly into a cutting table for maximum mechanized cutting performance.
100% Satisfaction Guarantee
PowerCut packages come standard with a three-year warranty and an option to purchase an extended warranty for a total of five years. The packages are also backed by ESAB's 100% Satisfaction Guarantee.
ESAB Welding & Cutting Products is one of the world's largest and most experienced manufacturers of welding and cutting equipment and welding filler metals. Recognized as the technological leader in the industry, ESAB is committed to providing cost effective solutions for its customers. For more information, visit http://www.esabna.com/powercut or call 1-800-ESAB-123.