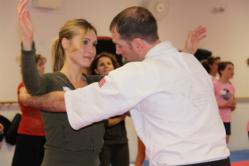 Give yourself the Leading Edge...in self defense!
Allentown, PA (PRWEB) September 08, 2012
Leading Edge Martial Arts will be hosting a free women's self defense workshop on Weds. Sept. 12th, 2012 at both their Allentown, PA and Bethlehem, PA locations.
The workshop runs from 7:45pm to 9:15pm. Registration begins at 7:30pm.
In this 1 ½ hour class, you will: Receive tips on how to avoid being a target and potential victim., Learn how to deal with a situation once it has presented itself, Learn easy to use yet effective striking techniques., Learn hands on self defense moves when actually grabbed by an attacker., Have the opportunity to practice all these skills on volunteers from Leading Edge Martial Arts.
Leading Edge Martial Arts will host the workshop at both their Allentown location at 3239 Hamilton Blvd, Allentown, PA and at their Bethlehem location at 2550 Brodhead Rd. suite 210, Bethlehem, PA.
Call to reserve a class in this free workshop at 610-297-3343. You can also register online by going to http://www.leadingedgemartialarts.com