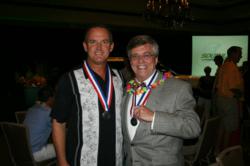 To be recognized by your peers, the citizens of the community where you live, as Citizen of the Year is quite an honor
Southlake, Texas (PRWEB) September 08, 2012
Pieter Andries, certified gemologist and founder of Pieter Andries, Creators of Fine Jewelry, presented the Citizen of the Year Award to winner John Terrell at the Southlake Chamber of Commerce Annual Awards Banquet. The banquet was held on July 20th at the Hilton in Southlake Town Square. The Awards Banquet is held to recognize and honor outstanding local leaders and businesses that have made a difference and inspired others in the community and chamber.
The Citizen of the Year award celebrates "outstanding effort, service and contribution to the community and recognizing excellence in leadership and efforts and service making the City a better place for everyone," according to the Southlake Chamber of Commerce website. Terrell has served as the City of Southlake's mayor since 2009 and was previously a member of the City Council. In 2008, he received the Southlake Chamber of Commerce's award for Leadership Southlake Alumni of the Year.
Andries was named Citizen of the Year in 2005. His premier custom jewelry store, Pieter Andries, Creators of Fine Jewelry, has sponsored the Citizen of the Year award for the past eight years.
"To be recognized by your peers, the citizens of the community where you live, as Citizen of the Year is quite an honor. This award represents an ongoing process of serving. Although I am not a mayor like John Terrell, we have something in common in that we are made to serve," said Andries. He advised Terrell in his presentation speech that, "Winning Citizen of the Year is not the end—it means the pressure is on to do more."
In addition to sponsoring the Citizen of the Year award, Pieter Andries Creators of Fine Jewelry also designed and made the medal for the past two winners. Andries specializes in one-of-a-kind jewelry. His extensive experience and well-trained eye allows him to know which metals will maximize the beauty and durability of a design. Designed in their state of the art 3-D design software, the Citizen of the Year medal was cast in Elite Silver, which is 95% pure silver, in Andries' Southlake workshop.
About Pieter Andries, Creators of Fine Jewelry
Whether it is a redesign or a dream about to become a reality, the creative design expertise that Pieter Andries has cultivated over 40 years, as a Master Goldsmith and American Gem Society Certified Gemologist, is reflected in each of his creations. Skilled professional craftsmen work under the direction of Pieter Andries utilizing state-of-the-art equipment and design technology to create a masterpiece of perfection and beauty – including diamond engagement rings, wedding bands and custom jewels. Offering the largest selection of rare, conflict-free diamonds in North Texas, Pieter Andries guarantees customer satisfaction of every piece of jewelry he creates. At Pieter Andries, it's all about YOU! For additional information, call (800) 233-3459 or go to http://www.pieterandries.com.