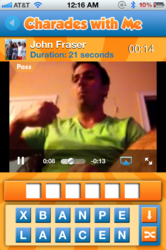 Draw Something Meets Facetime!
Orlando, Florida (PRWEB) September 08, 2012
Frontline Technology Solutions is breaking new ground today by taking lessons from the recent windfall success of OMGPOP's Draw Something and New Toy, Inc's Words With Friends by stretching the concept of social, mobile gaming to a platform that will allow amateur and professional game makers alike to leverage the power of social networking.
According to Geoffrey Toffetti, Managing Director of FTS' parent company, Frontline Performance Group, the new platform will open the path to a new generation of mobile games. "For a long time the gateway to social gaming has been barred by the complexity and expense of the underlying software development, we felt it was time to create a platform for all developers that will level the field for up and coming game makers."
The company is releasing a title of their own to launch the gaming platform, an interactive, video based game called Charades With Me (http://www.CharadesWithMe.com) where players must film their pantomimes which are then shared with fellow players. "Only since the advent of cheap storage and state of art video compression has this become possible," said Adam Schwartz, Manager of Development for FTS. "We envision a world where people can play a vast array of games with their friends."
The gaming platform will allow for single games, one-on-one games, multi-player and even team games. The time for intramural social gaming may just be at hand.
"Its Draw Something meets Facetime. Now that the foundation is laid we expect a new cadre of mobile, social game titles to emerge very quickly."
Frontline Performance Group specializes in creating sales cultures for any business with a frontline profit opportunity. Since its founding in 1993 FPG has served a variety of industries with particular focus Auto Rental. For companies who seek to maximize the value of their direct interactions with the consumer there is no better partner than FPG who have generated over $1 billion of additional revenue for their customers. Reach FPG at http://www.frontlineperformancegroup.com or info(at)frontlinepg(dot)com.