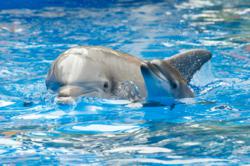 Top 20 Florida Sightseeing Tours by Orlandoescape.com
Orlando, Florida (PRWEB) September 11, 2012
Although Orlando is an internationally-known destination for theme parks, there are many more unique attractions that visitors can enjoy, especially during the fall months. By booking one of Florida Dolphin Tour's Top 20 Florida Sightseeing Tours through Orlandoescape.com—the #1 Internet site for Orlando, Florida—Florida travelers can get back to nature or go out of this world with a wide variety of tour packages.
The Florida Space Coast is a popular destination for Orlando visitors, who can take a day off from the theme parks and immerse themselves into the history of the U.S. space program at the Kennedy Space Center (KSC) in Titusville. Just a few miles south of KSC, Florida Dolphin Tours also offers the Cocoa Beach and Airboat Tour.
There are several ways to enjoy Florida's flora and fauna through a Florida Dolphin Tour package, including a Manatees Adventure, Swim with the Dolphins at the Miami Seaquarium, or even a one day getaway in the Miami Everglades.
Closer to Orlando, travelers can visit one of Orlando's original tourist attractions—Gatorland—as well as Walt Disney World favorites such as character dining experiences and a Planet Hollywood VIP pass at Downtown Disney.
"Florida Dolphin Tours does a great job of giving visitors a wide variety travel experiences," said Sunil Govind, president of Orlandoescape.com. "From Miami in South Florida to Clearwater Beach on the Gulf Coast, there are so many places that are easily accessible from Orlando."
Govind added that the off-peak travel season after Labor Day is a great time to take advantage of great travel offers in and around Orlando. "It still feels like summer in September and October, but the big summer crowds have gone away, so now is the perfect time to book a tour with Florida Dolphin Tours."
For more information on travel packages in Orlando, visit Orlandoescape.com.
About Orlandoescape.com: Launched in 2000, Orlandoescape.com is the #1 Internet site for Orlando, Florida, featuring the top Orlando vacation package deals, travel articles, and links to related sites.