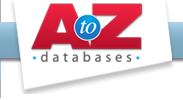 Omaha, NE (PRWEB) September 06, 2012
AtoZdatabases, a leading provider of reference & marketing databases and job searches for libraries, academic institutions, and government agencies across the U.S, is helping unemployed workers find jobs through its new Indeed.com feature.
The new job postings feature, powered by Indeed.com, displays all of a company's active job postings on its profile on the AtoZdatabases website. The business profiles from AtoZdatabases already provide plenty of vital details for job seekers, including executive titles, contact information, and company metrics.
"The addition of job postings to the business profiles makes it even easier for job seekers to find which companies are hiring in their industries. This is just another added bonus for our users," says AtoZdatabases President, Joe Lemoine.
AtoZdatabases complete database of over 300 million records includes:

Residents & Homeowners – 210 Million Residents & 90 Million Homeowners
Businesses – 30 Million
Business Executives – 29 Million
Executive Emails – 8 Million
New Businesses – 2 Million per year
New Homeowners – 50,000 Weekly
New Movers – 200,000 Weekly
For a FREE 30-Day trial of AtoZdatabases, please call toll-free at 877-428-0101 or email Christine.Smailys(at)AtoZdatabases(dot)com.
About AtoZdatabases:
AtoZdatabases, powered by DatabaseUSA.com, is a leading provider of premier reference marketing databases for libraries, academic institutions, and government agencies in the United States.