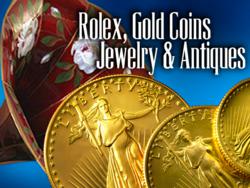 "It's a nostalgic piece that is sure to be popular with Hollywood memorabilia collectors," states chief auctioneer Paul Sabesky
Tehachapi, CA (PRWEB) September 06, 2012
For a woman that loves classical design and is seeking to make a bold statement a14 kt. Gold, 24.87CT Ruby & Diamond Pendant fits the bill. The vibrant main ruby gemstone is Fuscia red in color, faceted oval shaped and surrounded by diamonds. The ruby itself measures approximately 23 x 19 mm and is classified as good quality. Celebrated as one of the most prized gemstones, rubies have long been the gem most closely associated with royalty and as such have become a precious gem desired for both its aesthetic popularity and monetary value. The necklace has an estimated high value of $20,759.
Offered for auction in the watch category is a Rolex Daytona Men's Watch. This magnificent gold watch was previously owned and is one several other Rolex watches in the auction catalog. The timepiece is a Daytona Superlative Chronometer with a gold band and gold face.
In addition to the luxury items being presented, the auction house is also featuring a collection of gold coins. A unique coin offered is a 1851-O $10 U.S. Liberty Gold Coin. The coin is NGC graded as VF 35 and is sealed in plastic protector pouch. The coin is medium antique gold color and shows only few handling marks. Many numismatics consider this coin to be a great bargain for the collector because of their antique age in relation to the gold content.
In the Hollywood memorabilia category a old time favorite piece offered is a John Wayne Collage w/Prop Gun and Authentic Signature. The collage features an image of Wayne and miniature posters of his most recognized movies. A prop rifle is also featured in the piece for decorative placement. The highlight of the collage is an original signature by Mr. Wayne. "It's a nostalgic piece that is sure to be popular with Hollywood memorabilia collectors," states chief auctioneer Paul Sabesky. The item has a current high bid of $200.
Additional auction highlights include a 2007 Lexus GS 350, Early Edison Phonograph, 15.35CT Alexandrite gemstone, Coach Purses, and more.
To view this auction please click the link below
Rolex, Gold Coins, Jewelry & Antiques Auction - Saturday, Sept 8th, 2012 | 6:30 AM Pacific
https://www.proxibid.com/asp/catalog.asp?aid=56576
For additional information on any lot in the sale, call Debbie on 661-823-1543 or e-mail info(at)governmentauction(dot)com.
About Government Auction
Government Auction was founded as a general resource to buying assets such as jewelry , gemstones, memorabilia, collectibles, art, prints, antiques, and vehicles throughout the United States. Most people don't realize there are hundreds of thousands of assets and valuables that are seized everyday and made available through various resources. Many of these confiscated assets are passed on to us for immediate liquidation. Some examples of how we acquire requisitioned objects are from bankruptcies, IRS, estate sales, trusts, and more.
Government Auction is the largest company of its kind and the only one in the United States that works closely with these agencies to acquire literally thousands of assets and confiscated goods, such as Ruby Gemstones, Sapphire Rings, and Men's President Rolex Watches, Mercedes Benz, and Gold Coins. In most cases we acquire these treasures at a fraction of their actual retail value. Once acquired these items are liquidated through the auction site. Clients are made up of just the everyday person who wants to buy a Diamond Bracelet, Pearl Strand Necklace, Sterling Silver Pink Sapphire Earrings, Oval Cut Emerald Gemstone Parcel, Remington Bronze Reissue at an unbeatable price.
All assets that we offer are normally at a 30% - 60% savings to the client. What this means is consumers are making a good investment immediately. By purchasing assets cheaply people can make a sizeable profit if they decide to resell it later on.
Government Auction is one of the most reputable jewelry and gem clearinghouse company in the U.S., with over 20 years of experience.