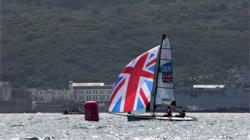 With the final 11th race of the series abandoned, the gold, silver and bronze medals were awarded on the basis of the overall standings established yesterday after the first 10 races were complete
(PRWEB) September 06, 2012
Great Britain today claimed its first-ever Paralympic Sailing medals, with a gold in the Single-Person Keelboat (2.4mR) and bronze in Two-Person Keelboat (SKUD18).
No racing was possible on the final day of the London 2012 Paralympic regatta because winds sufficient for fair competition failed to materialise.
With the final 11th race of the series abandoned, the gold, silver and bronze medals were awarded on the basis of the overall standings established yesterday after the first 10 races were complete.
That meant Helena Lucas won 2.4mR gold, ahead of German Heiko Kroger and Thierry Schmitter of the Netherlands on silver and bronze.
Australians Daniel Fitzgibbon and Liesl Tesch had already secured SKUD18 gold, with silver going to Jen French and JP Creignou of the USA and Briton's Alexandra Rickham and Niki Birrell on bronze.
The Netherlands trio of Udo Hessels, Marcel van de Veen and Mischa Rossen had also already secured gold in the Three-Person Keelboat (Sonar) before the final race had to be cancelled.
Silver went to Germans Jens Kroker, Siegmund Mainka and Robert Prem, with Norway's Aleksander Wang-Hansen, Marie Solberg and Per Eugen Kristiansen.
For further information please contact the London 2012 Press Office.
###