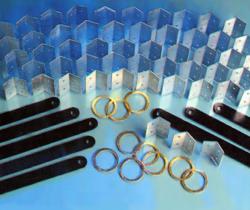 Dallas, Texas (PRWEB) September 07, 2012
The AmCon Design & Contract Manufacturing Expo is to be held September 11th - 12th at the Plano Convention Centre from 9:30am - 3:30pm on Tuesday the 11th and 9:30am - 3:00pm on Wednesday the 12th. Please visit the http://www.amconshows.com to register for free admission in advance. AFT Fasteners is no stranger to exhibiting at manufacturing trade shows and looks forward to seeing some friendly faces as well as some new attendees this year. AFT will be displaying at booth 106 and will be joined by a new participant, AFT Manufacturing. The combined goal of AFT Fasteners and AFT Manufacturing is to get to know engineers and companies and develop partnerships to provide all-in-one solutions for any manufacturing projects that these future partners might need.
AFT Manufacturing has decades of experience in providing high quality metal stamping and fabricated parts. AFT Manufacturing believes in a hands on approach to meeting and exceeding their customer's expectations. From engineering and design to fabrication production and quality control to short runs or high volume runs, AFT Manufacturing believes that customer satisfaction is the highest priority of their business. The AmCon Expo in Plano is a great place to share this philosophy with some of DFW's best manufacturing and engineering professionals. Trade shows provide a unique opportunity to meet and discuss manufacturing needs and ideas in person. To actually get to see a business partner face to face is a great value, and AFT looks forward to making some new partners at this year's Fall show.
AFT Fasteners is a fastener manufacturing, importing, distribution, plating and industrial services company "All-in-One", offering turn-key cost effective solutions to their customers. AFT also supplies high-quality standard, non-standard and specialty fasteners and hardware products. AFT serves customers with sales and distribution centers throughout the United States, and this allows them to provide expedited fastener and hardware distribution, as well as metal stamping, finishing and numerous other industrial services. Please contact AFT's professional sales staff or call (877) 844-8595 for information on how AFT Fasteners can provide you with a manufacturing solution that is right for your company.