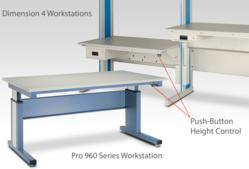 BREA, CA (PRWEB) September 07, 2012
IAC Industries introduces powered worksurface-height adjustability to the company's Pro Series line with the 960 Workstation, and the company's flagship Dimension 4 Workstation. The focus on ergonomics provides a platform on which assembly processes take place in greater comfort and efficiency for the operator, which in turn generates greater productivity. Adjustable height workstations also allow greater versatility in the workplace as tasks change from processes that benefit from either as sitting a standing position.
Height adjustment is motor controlled, and utilizes hydraulics for smooth operation. Powered height adjustment is an option on Dimension 4, and is available on both single-side and double-side workstation models. Powered height adjustment is standard on 960 Series workstations.
On 960 Series, the 12-inch adjustment range provides worksurface heights ranging from 30" to 42". On Dimension 4, the powered height adjustment mechanism is part of the worksurface assembly that may be positioned at any height within the vertical uprights on these workstations, and provides 12 inches of travel. Accessory items for the 960 Series, such as Multi Task System for shelving and lighting, and electrical channels mounted to the worksurface, adjust up and down in unison with the worksurface. Travel time for the full adjustment range on both workstations is 32 seconds, and is actuated with separate UP and Down pushbuttons. The total weight capacity is 500 lbs. evenly distributed, which includes accessory items added to the bench. Cantilever style support pedestals on these two workstation models increase operator range of motion and have floor glides with a one-inch adjustment range for leveling the worksurface.
More information about Dimension 4 and 960 Series workstations can be viewed at http://www.IACindustries.com.
Based in Brea, California, IAC Industries is the preeminent U.S. manufacturer of technical furniture (production workbenches, workstations, and related products) for companies performing assembly, testing, repairs, inspection and related applications across a wide spectrum of industries. IAC products are 100% made in the USA by Union Labor, and are sold worldwide. IAC Industries currently offers the widest range of workstations, workbenches, seating, and workstation-related accessories available from a single manufacturer. Products meet many industry and military requirements for static control in electronics assembly and testing. IACindustries.com For more information, contact IAC Industries at 714-990-8997 or benchsales(at)iacindustries(dot)com.