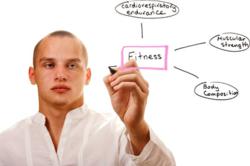 Seldom is such a valuable fitness resource given away for free. This workout mega pack offers workouts for most fitness goals and offers the ability to create varied workouts for well over 1 year.
(PRWEB) September 07, 2012
Fitness Baron's free workout mega pack includes workouts that will achieve different goals. There are 9 workouts designed for adding solid muscle mass. 9 workout routines for building lean muscle. 3 toning workouts. 9 superset workouts for building muscle in less time. 12 abdominal workouts and 8 yoga routines.
The workout variety and volume is designed so that anyone can plan at least a full year of workouts achieving different goals throughout the year.
The 8 yoga routines are diverse. There's 1 weight loss routine. 1 core/abs routine. 2 Hatha yoga flows. 1 hot yoga routine. 1 gentle yoga flow and 2 sun salutation routines.
Moreover, 39 weightlifting workouts are split up into 1, 2, 3, 4, and 5 day splits. This provides an added dimension to workout scheduling and variety.
2 bonus items are included. First, Fitness Baron includes a nutrition guide for building muscle mass and for getting lean, based on personal experience. Second, the workout mega pack includes a spreadsheet listing over 120 exercises organized by muscle (i.e. chest, back, abs, etc.).
What's not included are bodyweight workouts. All of the weightlifting workouts are designed for use in a commercial or home gym with resistance training equipment. The exception are the 8 free yoga routines.
The key to developing a successful fitness regimen is setting goals and using workouts best designed to meet those goals. Since fitness goals are diverse and require different workout plans, the Fitness Baron workout mega pack is designed to provide multiple workout routines for most fitness goals and includes the tracking format as an additional tool for achieving workout goals.
About
Fitness Baron is a website dedicated to informing and educating the public about fitness with an emphasis on designing and creating workouts to achieve various fitness goals.
You can get Fitness Baron's free workout mega pack at: http://workouts.fitness-baron.com/workouts/
Fitness Baron Blog: http://www.fitness-baron.com/