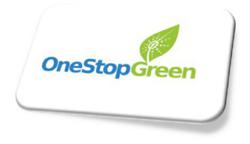 "Our new commercial website helps separate our two business segments. In addition, it provides a more customer friendly environment for seeing the products appropriate to their projects," says Sohail Hassan, President and CEO of One Stop Green.
Houston, TX (PRWEB) September 07, 2012
One Stop Green, an international retailer for green, energy efficient products and services launches its new Commercial Solutions Website! The new commercial site focuses on Green Products that are suitable for commercial clients that include architects, engineers, commercial buildings and apartment complexes, industrial facilities, and even hospitality. The new site also features ActiveLED lighting, the best LED lights in the world backed by an unconditional 10-year or 90,000 hour NO lights loss warranty.
When a user visits OneStopGreen.com for the first time, they are now directed to a landing page where they will select One Stop Green Residential or Commercial Solutions. The residential site will continue to offer Green Products for the home that are directly available for sale on the ecommerce site. The new Commercial site focuses on the same product solutions - solar, wind, water, lighting, green building, and green living products but is meant specifically for Commercial Properties and businesses.
The new commercial website also includes many useful tools for consumers such as the Create and Manage your Own Green Project, an Energy Savings Calculator, and an Incentives Bank to help keep consumers informed about all the latest information regarding federal and state tax incentives for energy-efficient products, services, and technologies. The One Stop Green Commercial website also features a live chat client that allows clients to chat directly with One Stop Green's own Green Professionals. Commercial Clients with questions about products will be able to instantly contact a member of the One Stop Green Team at the click of a button to ascertain costs, energy savings, or simply for free consulting.
The new commercial site also features ActiveLED lighting, a long-term lighting solution that has unprecedented energy savings and is manufactured in the great state of Texas. One Stop Green helps small businesses identify and implement environmentally friendly solutions that save money and increase productivity. At the end of the light's life cycle, One Stop Green will even buy the light back to recycle and re-use, truly a Green Product. With zero out of pocket maintenance costs on all fixtures and guaranteed energy savings of over 90%, usually more than that, this lighting system in most cases pays for itself in less than three years, also guaranteed in writing.
One Stop Green, LLC facilitates environmentally friendly improvements to residential and commercial properties through distribution of green, energy efficient products and services. Their goal is to provide practical, long-term, and economical solutions for existing and non-existing facilities while remaining dedicated to the principles of sustainability. One Stop Green's mission is to help consumers take control of their energy options so they can reduce their carbon footprint and do their part for the environment, while protecting themselves against rising energy costs and taking advantage of valuable Federal tax credits and deductions.
Contact:
Nathan Kaufman http://www.OneStopGreen.com
P: 877.449.9110 | O: 713.541.2739 | C: 210.846.5900