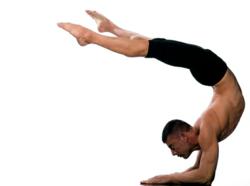 The diversity among the 8 free yoga routines means there's something for everyone regardless of yoga goals.
(PRWEB) September 08, 2012
The 8 free yoga routines include images of the poses and brief instructions. They are available as printable PDFs so that users can download them and print them for use during home/gym personal yoga sessions.
The 8 routines are varied in yoga style and objective. There are 2 Sun Salutation routines, one for beginners and one that's designed for more advanced. The Sun Salutation routines can form a rigorous yoga session on their own simply by repeating them.
The 2 Hatha yoga routines incorporate fundamental yoga poses resulting in a well-rounded yoga session. There is a beginner and advanced Hatha routine.
The core yoga routine targets the abdominals (core) and buttocks. Yoga isn't commonly thought of as a core and buttock strengthening discipline, but with the properly designed routines, it can be very effective for working out abdominal and buttocks muscles.
The Hot yoga routine sets out the basic 26 poses used in most hot yoga routines. It's a fundamental hot yoga routine that is designed for beginners and advanced yogis.
The gentle yoga routine (also referred to as Yin Yoga), is a series of gentle yoga poses that are held for longer durations designed to lengthen muscles and other soft tissue. It's a simple and gentle routine that can be practiced by anyone.
The last routine is a yoga weight loss routine. It's rigorous and incorporates yoga postures designed to create an intense yoga flow and strengthen muscles.
Aside from the 2 Sun Salutation routines, all the routines last from 45 to 75 minutes in duration. However, a brief guide is included in the download that offers suggestions for varying the duration of all the routines.
About Yoga Baron
Yoga Baron is a website dedicated to yoga professionals, teachers and studios.
Get all 8 free yoga routines at: http://workouts.fitness-baron.com/yoga-routines/
The Yoga Baron Blog: http://www.yogabaron.com/