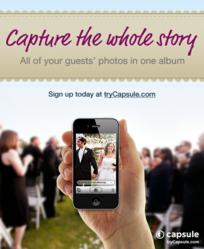 200 Photographers at Your Wedding
LOS ANGELES, CA (PRWEB) September 06, 2012
Capsule (tryCapsule.com) has partnered with premier DIY wedding album service, BrideBox.com, adding wedding photo album and photo book printing to their existing suite of mobile and online photography tools for the bridal couple. Effective immediately, the new relationship gives brides a complete photo solution from capture, collection, and storage to elegant prints of their big day. You can see the combined offer at http://www.bridebox.com/capsule.
Capsule was built to empower guests, already armed with smart phones, to effortlessly contribute their candid photos to one album. With CapsuleCam, the free app for Android and iPhone, photos are no longer trapped on phones or scattered across different services, as all photos are automatically uploaded to a shared group album. Guests with other digital devices can also upload their photos and videos directly to the website. Additionally, Capsule provides a platform to interact and comment, share to social networks, order prints, and download hi-resolution copies.
"These days almost every guest at the wedding takes pictures, so a mobile group-sharing app is a must, and we found Capsule (tryCapsule.com) to be the most appropriate app for this need. It's easy to use, unique, and extremely valuable to the couple and guests," says Chanan Steinhart, CEO of DigiLabs, the parent company of BrideBox.com.
"We are very excited to be working with BrideBox.com to offer couples professional-grade printing services. The combined offer provides bridal couples cutting edge technology, in all aspects of wedding photography, at a superior value," says Cyrus Farudi, CEO of Capsule.
Both Capsule and BrideBox espouse the DIY bride and this partnership aims to further that commitment by providing a one-stop shop for all their wedding memories.
About BrideBox:
BrideBox is devoted to helping couples design their own wedding albums without sacrificing the top quality materials and photo finishing that mark a professionally produced album. BrideBox combines years of wedding photography expertise and a proprietary process that gives consumers access to products previously only available through photography professionals. BrideBox is a division of DigiLabs, Inc., a privately-held company that creates superior photo products available through professional photographers. For more information, visit BrideBox.com or find us on Facebook (facebook.com/BrideBoxWeddingAlbum)
About Capsule (tryCapsule.com)
Capsule is the easiest way to capture every photo taken at a wedding. The mobile app for iPhone and Android lets guests add photos to a shared, central wedding album instantly with no uploading required. Capsule differentiates itself from other wedding photo apps by offering the wedding party a platform to interact, comment, and share. Capsule members can also order prints, download hi-resolution copies, and share to social networks directly from the website. Where existing wedding apps begin and end with the wedding, Capsules are designed for all the events surrounding the big day including the bachelor/bachelorette party, bridal shower, and honeymoon.
For more information, visit tryCapsule.com or find us on Facebook (facebook.com/tryCapsule), Pinterest (pinterest.com/tryCapsule), or Twitter (twitter.com/tryCapsule)