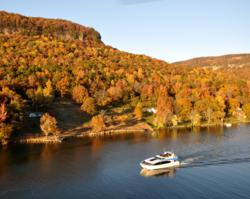 Chattanooga, TN (PRWEB) September 07, 2012
With the changing weather and landscapes of Fall, Chattanooga promises a fresh new season bursting with activities. Explore the countryside's brilliant changing colors; take in a variety of Oktoberfest celebrations, thrilling Halloween adventures and music festivals including RiverRocks, a 10-day festival with more than 90 events including hot air balloons, bluegrass music, wine & food events, rowing regatta, trail runs, rappelling, hikes and more.
FALL COLOR TOURS
Looking for some great ways to see the fall colors? Chattanooga offers options by train, boat and bicycle. And the roads are always wide open for some cruising in your car or motorcycle. 

BY BOAT – Take a cruise into the Tennessee River Gorge, where you'll see nature's brilliant canvas of fall colors. Try an Awesome Autumn Fall 2-hour cruise aboard the Tennessee Aquarium's River Gorge Explorer; a cruise aboard the Blue Moon; or a 3-hour Fall Leaf lunch cruise aboard the Southern Belle Riverboat. 
BY TRAIN – Jump on board the Tennessee Valley Railroad's Halloween Eerie Express, a spooky, family-friendly round trip train ride featuring scary storytelling, an Eerie Fun House, Halloween treats and more. 
BY BIKE: View the beautiful fall foliage on a ride along the 13-mile paved Riverwalk along the Tennessee River and through the Bluff View Art District or take to the hundreds of mountain trails on Lookout and Signal Mountains.  Now visitors can rent a bike from the BRAND NEW, first in the South, Chattanooga Bike Share System with 30 locations and 300 bikes throughout Downtown.  
FESTIVALS, EVENTS & ENTERTAINMENT – DOWNTOWN & OUTLYING AREAS
Enjoy a variety of fun during one of Chattanooga's downtown festivals and events, many surrounding the riverfront and one of the nations' top-rated aquariums. All the downtown activities are connected via a free, electric shuttle. Events in the Lookout Mountain and outlying areas are only 5-20 minutes from downtown Chattanooga.
Downtown Area

Chocolate Festival/Sept. 8, Noon-4 pm ($): Creative Discovery Museum will present the first-ever Museum Chocolate Festival, celebrating chocolate's history, lore, science and decadence. Activities include cooking classes, demonstrations, art stations and it wouldn't be complete without samples of chocolate!
Play! Build! Climb!/Sept. 22-Nov. 6 ($): The Creative Discovery Museum's newest exhibit Play! Build! Climb! invites kids to experiment with design and climb the walls. Kids can become architects and build skyscrapers, domed buildings, castles or even a whole town.
Chattanooga Market /Sundays, Now-Dec. 2 (FREE): Chattanooga Market is a weekly, open-air market offering fresh bread from local bakeries, just picked produce (tax free), live music, artists and artisans selling things they have made in the Chattanooga area.
Thrills, Gills & Chills @ the Tennessee Aquarium/Oct. 1-31 ($): Are you brave enough to face a giant millipede, hairy tarantula, or wide-eyed owl?  During October, you'll get to experience added programs, special dive shows, keeper talks, fascinating creatures in Ranger Rick's Backyard Safari and more. Take a thrilling trip behind the scenes with a Backstage Pass tour to get even closer to toothy sharks in the River Giants exhibit.
RiverRocks 10-day Outdoor Festival/Oct. 5-14 ($/FREE): More than 90+ events include hot air balloon rides, adventure kids events, live music, hiking, cycling, rock climbing, rowing regatta, a 280-foot rappelling event off of the 2nd tallest office building downtown, paddling, trail runs and more.
3 Sisters Festival/Bluegrass/Oct. 5 & 6 (FREE): Bluegrass music at its very best on the revitalized riverfront.  From traditional to contemporary bluegrass, this year's performers include Yonder Mountain String Band (national act), Travelin' McCourys, Steep Canyon Rangers, Keller & the Keels and more.
Wine Over Water/Oct. 6, 5-8 pm ($): Be treated to wine, hors d'oeuvres and live music across the historic Walnut Street Bridge. Proceeds benefit the preservation of historical properties in Chattanooga. 
CultureFest/Oct. 7, 11am-4pm (FREE): This one-day, family-friendly festival celebrates Chattanooga's rich, cultural diversity through music, dance, food, storytelling, children's activities and fine arts. Held at First Tennessee Pavilion as part of the Chattanooga Market.
11th Annual Oktoberfest @ the Chattanooga Market/Oct. 13-14 (FREE): Chattanooga's oldest and largest German celebration to feature live German music, German foods, Bier Garten and plenty of entertainment for the whole family. The market will host over 30,000 people for this two-day event.
Banana Split/Oct. 13, 3-4 pm ($): Jack Hanna and his animal friends will be putting on a show just for the kids. Watch Hanna live while enjoying a tasty banana treat. Hanna's autographed children's book "Passport into the Wild" will be available. This is part of the larger event, the Banana Ball, that is for adults 21+ only
Boo in the Zoo/Oct.19, 20, 26, 27 ($):The annual Boo in the Zoo celebration includes some loveable cartoon characters, trick-or-treat stations, costume contests, pony rides, games, inflatables, and much more! This non-scary Halloween event is sure to have the whole family talking for years to come.
Aqua-Scarium Halloween Party/Oct. 26, 6:30–9:30 pm ($): Come in costume with your favorite treat bag and celebrate a safe, but spirited, Halloween! Enjoy the many costumed divers, trick or treat for loads of loot, play games, win treasures, listen to storyteller Jim Pfitzer and hang out with the Aquarium's loveable mascots who will be dressed in their own costumes. 
Lookout Mountain & Outlying Areas

Railfest at the Tennessee Valley Railroad/Sept. 1-2 ($): Tennessee Valley Railfest includes two days of live entertainment, train rides, demonstrations, petting zoo, children's activities and railroad displays. There will be plenty of food and unique gifts to give to your favorite train enthusiast.
Blowing Springs Farm's Enchanted MAiZE/Sept. 20-Oct. 28, Thursday-Sunday ($): Enjoy the fall festival attraction in the valley below Rock City's Lover's Leap with a 10-acre cornfield maze, the NEW Critter Corral, historic birdhouse barn, tractor pulled hayrides, games and children's courtyard playground. 
Doc Shock Movie Night/Sept. 29, Oct. 5, Oct. 31 @ 7pm: Come join host of Shock Theater's Dr. Shock for Horror Movie Night at Ruby Falls Haunted Cavern! The film will be presented 260 feet underground in the cavern. Dr. Shock and his devilishly lovely sidekick Nurse Goodbody, will exchange humorous banter and discuss facts from the horror film. Tickets include movie, nachos, drink & the Haunted Cavern tour.
Blowing Screams Farm's Forest of Fear and GhostRide/Sept. 29-Oct. 27, Friday - Saturday nights beginning at dark ($): A mysterious group is taking control of Blowing Screams Farm and conducting their hideous experiments in the Forest of Fear. Get up close and personal with subjects of these experiments in their unnatural habitat in GhostRide. Experience a new level of terror at Blowing Screams Farm in the ALL NEW, totally redesigned Forest of Fear and the most intense GhostRide yet!
Ruby Falls Haunted Cavern/Sept. 29-Oct. 28 & 31 Friday-Sunday after dark ($): Nightmares return to Lookout Mountain for the Haunted Cavern, awarded #6 on the national haunt list by Rand McNally! This intense event takes place both above and below ground and is one of the area's best haunted attractions.
7th Annual Rocktoberfest @ Rock City Gardens /Sat & Sun in Oct., Noon-5 pm ($): Rock City is transformed to share their German heritage with German live music, bratwurst, polish sausage, sauerkraut and a polka stage for the "chicken dance." Specialty beer will be on tap.
Lake Winnepesaukah's WinnepeSPOOKah!/Oct. 5-27, Fri & Sat ($): It's hair-raising Halloween fun in an atmosfear of haunted rides, eerie edibles, screaming thrills, the new Train of No Return, free magic shows, interactive parades & entertainment with clowns, jugglers & more at this SPOOKtacular event! For all ages.
###
PLAN YOUR VISIT
Chattanooga is experienced best when you spend a few days and really take time to enjoy your stay. Many of the accommodations provide special fall, family or romantic packages that save you money.
FOR MORE INFORMATION ON CHATTANOOGA
EVENTS
FACEBOOK
TWITTER
YOU TUBE