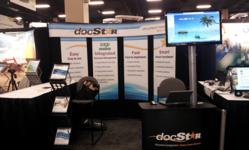 As a Sage Development Partner, we demonstrated seamless integration with Sage ERP products.
Schenectady, NY (PRWEB) September 06, 2012
docSTAR, an award-winning document management software company, recently showcased its Accounts Payable Solution, Sales Order Processing Solution and Workflow Productivity software at Sage Summit 2012, an annual conference held Aug. 12-17 at the Gaylord Opryland Resort and Convention Center in Nashville, Tenn.
These innovative tools help organizations manage their accounting/business office functions including accounts payable and accounts receivable information electronically. The software solution, which uses advanced capture technology, integrates seamlessly with in-house ERP systems, resulting in increased retention, efficiency and overall productivity.
Sage holds a significant portion of the market share for small- to medium-sized businesses. "As a Sage Development Partner, we demonstrated seamless integration with Sage ERP products," explained docSTAR President and CEO Thomas Franceski. "Over the course of four days we showcased our solution to Sage resellers, end users and consultants."
Tailored toward business leaders, product users and IT administrators working at companies running a Sage solution, Sage Summit provides high-quality business and technical education. Partners and customers have the chance to take part in more than 350 workshops, peer-to-peer discussions and hands-on labs, gaining invaluable insight they can use as soon as they return to the office.
About docSTAR
docSTAR™, founded in 1996, is an innovative software company that provides collaborative document management solutions to streamline business processes for organizations of any size. Their leading document management software, available either on-premise or hosted in the cloud, allows enterprises to gain control over documents, improve retention and increase efficiency. docSTAR integrates with almost any third party business application to improve effectiveness with core systems. Customer satisfaction is of the utmost importance and the company's customer support organization is consistently recognized for its quality and responsive level of service. Over 6,000 organizations depend on docSTAR from every industry including insurance, financial services, healthcare, real estate/property management, manufacturing, legal, non-profit, education, banking and financial institutions and the public sector. For additional information, please visit http://www.docstar.com.