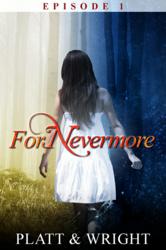 If the first or second season do well, we'll definitely consider a third.
Cincinnati, Ohio (PRWEB) September 07, 2012
Sean Platt and David Wright, authors of the hit post-apocalyptic serial Yesterday's Gone, toned down the gore and foul language in their usual adult titles, to reach Young Adult (YA) readers with their dark fantasy serial, ForNevermore.
When serialized fiction authors, Sean Platt and David Wright found success at Amazon with their post-apocalyptic series, Yesterday's Gone, they knew they were onto something -- there is a HUGE audience for serialized fiction. Their "story studio" Collective Inkwell is like an "eBook AMC." Now the pair are seeing if they can duplicate their success with fans who gobbled up YA series like The Hunger Games, and Twilight.
"The thing about good YA titles, is that you don't even notice the missing sex scenes or R-rated language," said Platt. "We're writing stuff that's equally thrilling and scary as our adult titles, but accessible for both teens and their parents. As a father, I really wanted to write something my daughter wouldn't have to wait until she's 18 to read!"
Whether the series will take off with a younger audience, remains to be seen. While reviews have been positive so far, the series didn't sell nearly as well as their other series, which includes WhiteSpace, Available Darkness, and the non-serialized short story collections, "Dark Crossings."
"We're used to writing gritty, dark stuff," said Wright. "But some of the most revered classics were written with nary an F Bomb. While we think there's a time and place for all language, we wanted to prove we could write something that could appeal to young and old readers alike. But I think this book is just as scary as any of our others."
Platt and Wright realized that they made a mistake in not directly marketing the book to YA readers.
The writing duo recently hired book cover artist Stephanie Mooney to come up with a more YA-looking cover, in hopes of capturing the attention of a more YA audience.
"We've heard some great stuff from some of our regular readers, who loved the book so much they shared it with their daughters," said Wright. "There's something special when someone tells you that they enjoyed your story enough to want to share it with their kids. Now we hope with a more YA-friendly cover, young readers will find us on their own."
ForNevermore tells the story of 17 year old Noella Snow, living a miserable existence in upstate New York. With both parents dead, and few friends, Noella is an outcast. However, when she closes her eyes, she lives a different life, in a world where her father is still alive, and she's in love with the mysterious Dante. When her life is threatened, the two worlds collide.
As is the custom with all their serials, ForNevermore ended the season with a big cliffhanger. Regardless of sales, Platt and Wright have committed to at least one more season of the dark fantasy serial.
"If the first or second season do well, we'll definitely consider a third," said Platt. "As well as other YA stories we want to tell."
Platt and Wright are promoting ForNevermore using Amazon's KDP Select program to make the first episode of the YA thriller series free for three days from September 5 - September 7, 2012.
Episodes after that cost $2.99, but the full season of the YA thriller (of all six episodes) can be bought for $4.99.
Here's what some Amazon reviewers have said of the series:
"Absolutely Addictive!!!"
"Converted!"
"A Paranormal Mystery of a Thrill Ride!"
"Forever Hooked"
Platt and Wright are the self-proclaimed Kings of the Serial, who are spending 2012 releasing a book per week, spanning across several serials (including the smash hit post-apocalyptic serial Yesterday's Gone, WhiteSpace, ForNevermore, Available Darkness, and collections of their Twilight Zone-inspired Dark Crossings short stories.
Read more about their book-per-week quest at CollectiveInkwell.com.